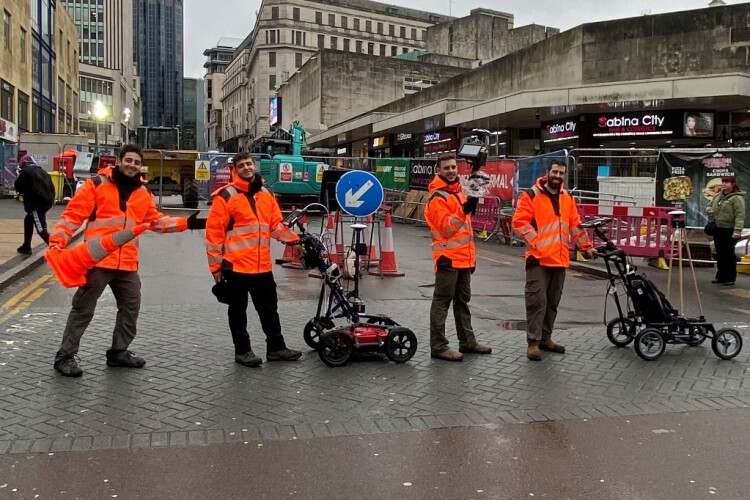 Subsurface imaging innovator Exodigo supplied its technology to Colas Rail to reduce the risk of utility strikes on the Midland Metro Extension in Birmingham.
On a quest for more sales in the UK has appointed a UK director – Trevor Moore, who previously spent 10 years with Murphy Geospatial.
Exodigo says that its technology helped Colas Rail detect more than 280 below ground utility lines (including 51 additional lines that no other locator or records had detected), providing data that reduced redesign and delays.

Colas Rail project manager Hamish Falconer said: "Excavating around buried services is one of our biggest risks, and the stat plans provided by statutory undertakers are in large part inaccurate. Exodigo's surveys provide us with much more reliable data that can then be used to select safer excavation techniques around known services."
Exodigo's new UK director, Trevor Moore, said: "Redesigns and service strikes as a result of incomplete or inaccurate subsurface mapping continue to be a problem in the UK. In my time in the industry, I have seen these issues cause costly delays to critical projects and it puts lives at risk. Exodigo's technology has the potential to mitigate many of the risks associated with large infrastructure projects by providing comprehensive information about what lies beneath the surface. I'm looking forward to working with our UK clients to support their capital projects."
Colas Rail business development director Alejandro Moreno said: "At Colas Rail, we pride ourselves on embracing disruptive and innovative technology. We consider ourselves changemakers, and we are extremely impressed with Exodigo's revolutionary subsurface imaging capabilities. We look forward to employing Exodigo's technology in our current and future capital projects to ensure safe and timely project delivery."
Got a story? Email news@theconstructionindex.co.uk