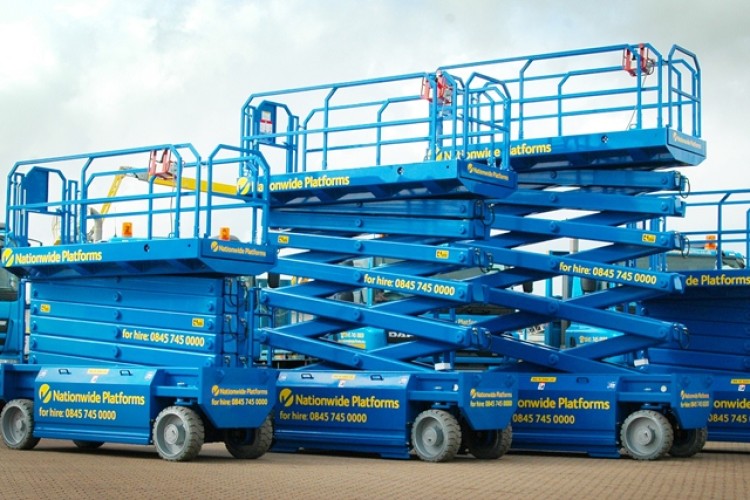 By September, 14% of the company's entire hire fleet will have been renewed.
With more than 11,000 machines, Nationwide is the clear market leader in the UK for powered access hire, with a 30% share. This is its first major capital expenditure programme for four years since the recession began.
Primary suppliers are JLG, Genie and Skyjack, with Haulotte and Niftylift also chipping in. The purchases also include 25 German-made HAB scissor lifts – the first HAB machines that Nationwide has bought. The HAB consignment includes the electric-powered S152-12, which has a 15.2m working height and a cantilever deck for reaching over obstacles – a key requirement when working at height in retail settings. Other HAB models set to enter the fleet include 22.5m and 28m diesel-powered rough terrain scissor lifts, as well as a 17.5 metre indoor model.

Nationwide Platforms sales & marketing director Richard Miller said: "Through the rest of this year and beyond our clients will continue to benefit from the diversity, quantity and quality of equipment in our market leading fleet. Our business has always taken pride in striving to go beyond the expectations of our customers and our equipment forms the backbone of our ability to make that happen.
"Our investment this year will see us introduce nearly 1,700 new platforms into the fleet and will contribute to us replenishing 14% of our entire UK fleet. In many of the instances we're updating the tried and tested equipment we know is already popular with customers, whilst in others we're presenting clients with powered access that we believe can prove even more suitable for overcoming their working at height challenges."
Other equipment set to enter Nationwide Platforms' fleet includes low level units, booms, scissors and vehicle mounted access platforms. Almost all of the new equipment will be ready for hire by the autumn.
Got a story? Email news@theconstructionindex.co.uk