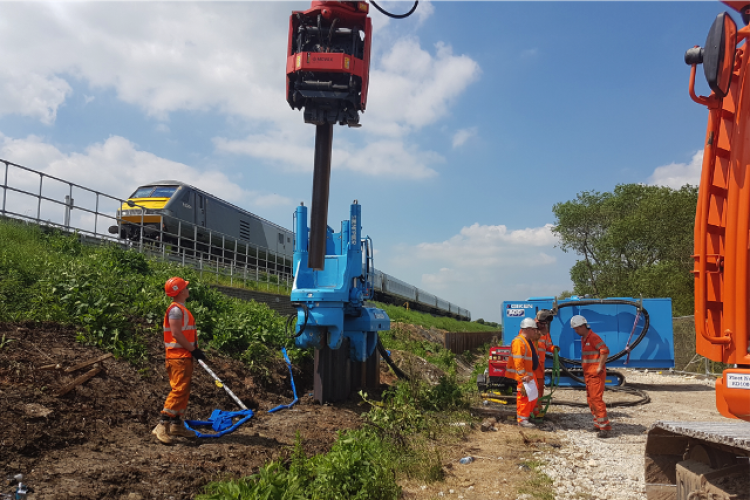 JN Piling used a Giken piling machine to press in 865 steel sheet piles, each six metres long, to form rows either side of the railway at Bridge Farm near Aylesbury.
The three-month scheme, from May to August, was needed to stabilise half a mile of subsiding embankment beneath the Chiltern main line in Buckinghamshire.
Sheet piles were installed using a pair of F201 Giken Silent Pilers in solo mode. Two Movax rigs were used to pitch the piles and service the Gikens. A 40-tonne 360-degree tracked excavator was used for all heavy lifting.
The steel sheets formed solid barriers behind which were packed 27,000 tonnes of stone, topped off with soil seeded with grass.
JN Piling's contract was £675,000; cost of the whole operation was £2.9m.
Until this permanent solution took place Network Rail engineers had to make ongoing temporary repairs to dips in the tracks causing bumpy rides for Chiltern Railways customers.

Left unchecked subsidence of ground beneath tracks can lead ultimately to trains derailing.
"By using this innovative Japanese piling method we got the job done quicker and cheaper than traditional kit would have allowed," said Network Rail programme manager Mark Evans.
"The Giken machine grips the neighbouring steel sheet pile and silently uses it to lever in the next one, and so on. It's simple, safe and saves taxpayers' cash – exactly how we like it."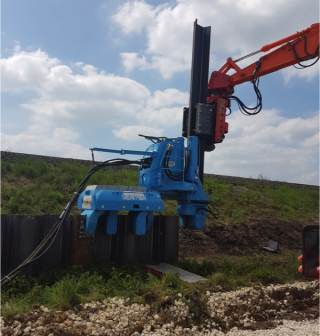 Alan Riley, customer services director for Chiltern Railways, added: "We are delighted with this innovative solution as it has clearly delivered a value-for-money result and most importantly enhances the travelling experience for our customers. The work embraces a 'think different' approach to ensure the project has been completed in a timely manner and quality output, with the customers at the heart of this."
Giken presses are hardly an innovation, having been around since the 1970s, but it remains a niche application for piling.
Got a story? Email news@theconstructionindex.co.uk