There are three professional corded tools: the GOP 55-36 Professional, GOP 40-30 Professional and GOP 30-28 Professional.
There are also two professional cordless ones: the GOP 18V-28 Professional and GOP 10.8V-28 Professional.
All have the new Starlock accessory mounting system, developed by Bosch in collaboration with Fein. Starlock is a uniform standard mounting system that allows users to snap accessories onto their oscillating power tools.
The five new models fall into three performance classes: Starlock, StarlockPlus and StarlockMax. These classes are used to help select accessories that match the machine's power – for increased design life of both tools and accessories. Starlock tools have 32 accessories to choose from, StarlockPlus increases this to 36 and StarlockMax offers the widest range of 48 accessories. All Starlock accessories are also backward compatible with existing oscillating power tools. New accessories include precision plunge saw blades and sanding fingers.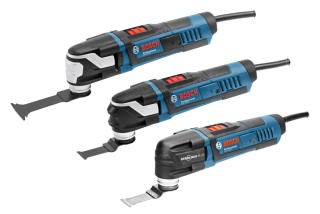 Specifications
Specifications

GOP 55-36 Professional

GOP 40-30 Professional

(replaces GOP 300 SCE
Professional)

GOP 30-28 Professional

(replaces GOP 250 CE
Professional)

Rated power input

550 W

400 W

300 W

Accessory performance
classes

Starlock
StarlockPlus
StarlockMax

Oscillation angle (left/right)

1.8°

1.5°

1.4°

No-load speed

8,000 ‒ 20,000 rpm

8,000 ‒ 20,000 rpm

8,000 ‒ 20,000 rpm

Grip circumference

175 mm

175 mm

175 mm

Tool length

290 mm

284 mm

280 mm

Accessory mounting system

Tool-free with 'Snap-In'

Tool-free with 'Snap-In'

With allen key

Weight

1.6 kg

1.5 kg

1.5 kg

Price

Cardboard box

L-Boxx

£179.00 (with 1 Blade)
£249.00 (with 25 Accessories)

£129.00 (with 1 Blade)
£199.00 (with 15 Accessories)

£94.00 (with 1 Blade)
£159.00 (with 20 Accessories)
 

Specifications*

GOP 18V-28 Professional

(replaces GOP 18 V-EC)

GOP 10.8V-28 Professional

Battery voltage/capacity

18 V/2.0 Ah

10.8 V / 2.5 Ah

Accessory performance
classes

Oscillation angle (left/right)

1.4°

1.4°

No-load speed

8000 ‒ 20,000 rpm

5000 ‒ 20,000 rpm

Grip circumference

193 mm

165 mm

Tool length

312 mm (without battery)

267 mm (without battery)

Accessory mounting system

Tool-free with 'Snap-In'

With allen key

Weight

1.6 kg (without battery)

0.8 kg (without battery)

Price

Cardboard box

L-Boxx

TBC

TBC
Got a story? Email news@theconstructionindex.co.uk