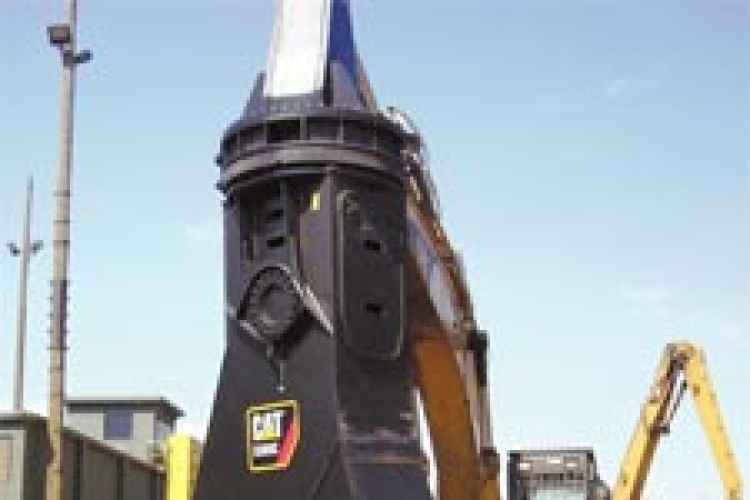 The shears also feature structural changes for extended durability. The two C Series shears replace the S365B and the S385B and will be available in the third quarter. 
The Cat bolt-on piercing tip design offers several advantages. The tip protects the moving jaw on both sides, effectively protecting the parent metal from wear as the moving jaw travels through the lower jaw. Additionally, the tip blades are fully reversible so that each blade provides two uses. Common hand tools are all that is needed to reverse the blades, and the tip can be maintained without moving the knives in the jaw. The result is faster and easier maintenance. The Cat tip also uses identical parts for both sides of the jaw. This makes maintaining spare parts inventory simpler for both Cat dealers and customers. 
The Cat tip uses dowels to hold the tip halves solidly in alignment with the jaw and to bear the load as the tip moves in and out of the fixed jaw. The design maintains positive retention of the piercing blades regardless of opening or closing forces.     
The S365C and S385C shears maintain proven features of the B Series shears, such as fast cycle times, excellent cutting capability along the entire jaw length, and 360-degree rotation. Jaw opening of the S365C is 33.3 inches (845 mm), and the S385C has a jaw opening of 34.6 inches (880 mm).
Productive and durable
In addition to the bolt-on piercing tips, each of the new shears features bolt-on knife segments running the entire length of the lower jaw, which reduces the possibility of jamming when cutting thin metals. The straight-line knife position in the lower jaw increases effective shear force, and the rhomboid shape of the knives in the upper jaw boosts wire cutting performance in the apex.
For high productivity, the integrated speed valve reduces cycle time to less than 8 seconds. The heavy-duty rotation system enables the excavator to do more work without repositioning, and the system is designed to comfortably handle the maximum forces that the matching excavator can exert.
The shears are matched to Cat excavators for optimum use of excavator lift and hydraulic capabilities. For scrap processing, the S365C shear is ideal for boom mounting on the 336D L excavator, and it also can be boom mounted on the 345D L excavator. For demolition work, stick mount the S365C shear on a Cat 365C L or the recently introduced 374D L excavator. The larger shear, the S385C, is ideal for boom mounting on the 345D L excavator, and it also can be boom mounted on the 365C L or 374D L excavator. For demolition work, stick mount the S385C shear on a 385C L excavator.
For additional information and detailed shear specifications, contact your local Cat dealer.
Brief Specifications for S365C and S385C Shears
Model 

Weight

Jaw Opening

S365C

Boom: 15,145 lb (6870 kg)

Stick: 14,770 lb (6,700 kg)

33.3 in. (845 mm)

S385C

Boom: 18,345 lb (8320 kg)

Stick: 17,580 lb (7975 kg)

35.4 in. (900 mm)
Got a story? Email news@theconstructionindex.co.uk