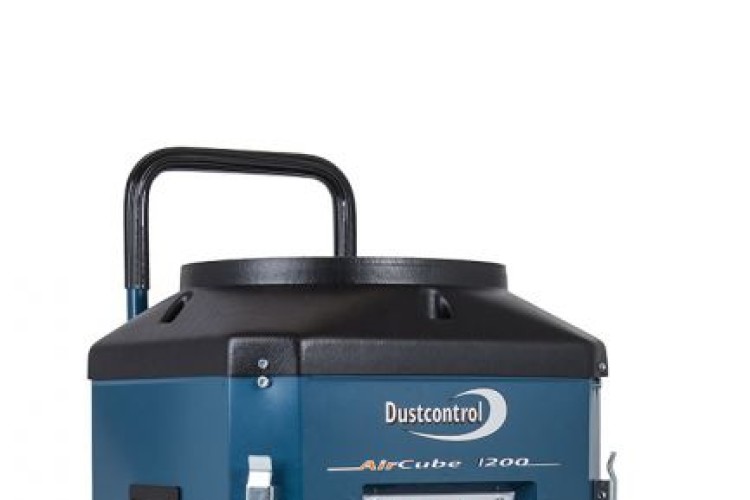 The Aircube 1200, sitting between Dustcontrol UK's Aircube 500 and 2000 models, is designed for large rooms, cleaning air up to 1100 m3/h.
Secondly, the new DC 3900 single and twin cyclone product range has been developed as an energy-efficient option.
Dustcontrol UK general manager James Miller said of the new products: "The Aircube 1200 is the perfect air cleaner solution where an Aircube 500 isn't quite big enough. The fan unit has a circular blower specially designed to build up high pressure. This means the unit can consistently generate large amounts of airflow and minimise airborne dust that is hazardous to health. Similar to our other two models it also has the capability to have a hose to the inlet meaning that it can be used more specifically if required, even attaching to a local extraction canopy, for example in a workshop."


He said of the DC 3900: "Despite being a high efficiency Eco motor, the performance is more powerful than ever before making the 3900 a strong new contender in the flooring market. Everything about this product is eco-friendly, from the actual product painting process, through to the material choice and the easy to change plastic bags used, which are biodegradable.
"The DC 3900 is suitable for all kinds of tasks demanding effective dust extraction, no matter if it is about heavy cleaning on construction sites or source extraction with larger handheld power tools and floor grinding machines. The DC 3900 product range can be easily adapted to the needs of the customer for tailor made solutions, thanks to a wide choice of suction casings and other accessories. Coupled with the new Aircube 1200 the products are the perfect solution to dust issues within the working environment."
Got a story? Email news@theconstructionindex.co.uk