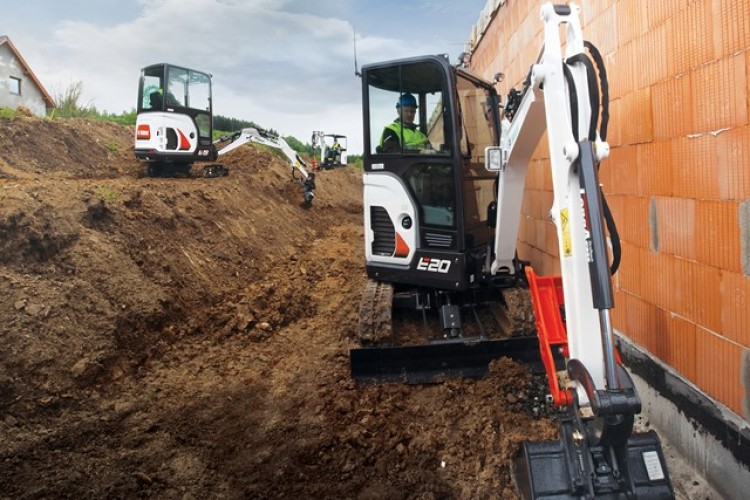 They have a new cab design with narrower pillars and larger windows for improved visibility. 
The E17, E19 and E20 are towable on trailers for up to 2000kg. Expandable undercarriage, automatic slew brake and advanced diagnostics and instrumentation are standard features on all three models.
The new two-tonne E20 model is a zero housing swing (ZHS) excavator, which means that despite having a full-sized cab, it has zero tail swing (ZTS) functionality by further protecting the front upper structure corners turning within the swing circle.  The ZHS configuration in the E20 excavator therefore provides 320° of free rotation when working close to structures. 
Optional features include joystick control of boom swing and auxiliary hydraulics with three selectable auxiliary modes for more precision and more leg room. There are also optional auto shift drive motors and seat options. 
The new control panel has standard readouts such as the fuel gauge and RPM meter but also auto engine shut-down, auto glow plugs countdown, auto cab lights switch-off and audible alarm (in case of malfunction).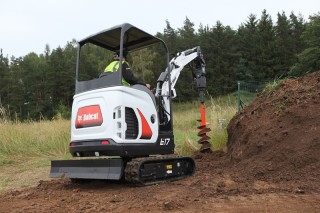 | | | | |
| --- | --- | --- | --- |
| | E17 | E19 | E20 |
| Operating weight with canopy, rubber tracks, std dipper stick and bucket: | 1711 kg | 1781 kg | 1930 kg |
| Operating weight with cab, rubber tracks, long blade and bucket: | 1816 kg | 1900 kg | 2034 kg |
| Maximum digging depth: | 2249 mm | 2385/2565 mm | 2385/2565 mm |
| Maximum dump height: | 2370 mm | 2566/2693 mm | 2566/2693 mm |
| Maximum reach at ground level: | 3871 mm | 4039/4214 mm | 4089/4264 mm |
| Maximum travel speed: | low range 2 km/h; high range 3.2 km/h (optional) | low range 2.5 km/h; high range 4 km/h (optional) | low range 2.5 km/h; high range 4 km/h (optional) |
| Auxiliary hydraulic flow: | 32.5 l/min | 30 l/min | 30 l/min |
| Undercarriage width (retracted/expanded): | 980/1360 mm | 980/1360 mm | 980/1360 mm |
| Engine: | Kubota D722 diesel engine delivering 9.9 kW at 2500 RPM (ISO 9249) | Kubota D722 diesel engine delivering 9.9 kW at 2500 RPM (ISO 9249) | Kubota D722 diesel engine delivering 9.9 kW at 2500 RPM (ISO 9249) |
| Overall dimensions: | 2299 mm high x 980 mm wide x 3665 mm long in transport position | 2299 mm high x 980 mm wide x 3831 mm long in transport position | 2297 mm high x 980 mm wide x 3688 mm long in transport position |
Got a story? Email news@theconstructionindex.co.uk