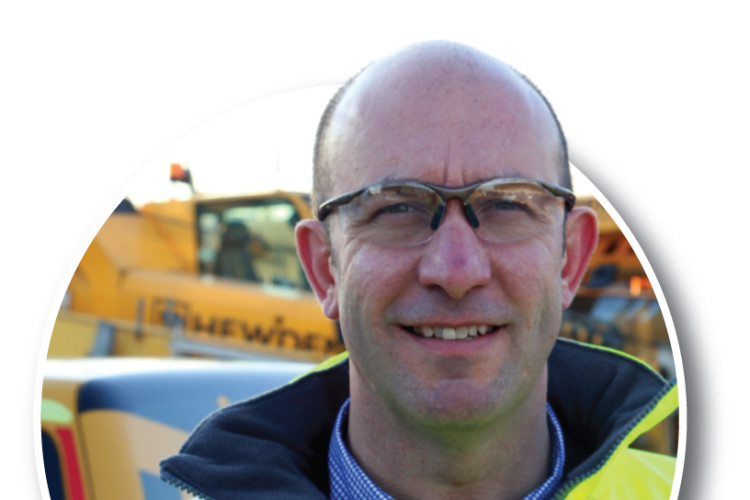 Hewden aims to become a major force in the crane hire business once again, says new chief executive Adrian Murphy.
Once a leading crane specialist capable of providing contract heavy-lift services, Hewden has scaled back its crane activities over the past 20 years or so to focus on quick turnaround 'taxi-crane' services for general building and industrial customers.
Speaking on the company's stand at the Plantworx show in June, Murphy admitted that Hewden's crane hire division is "very understated" as a business. And he wants it to flex more muscle.
"We are still one of only two national providers of cranes in the UK," said Murphy. The other, of course, is Ainscough. The Hewden fleet currently extends from 25-tonne capacity city cranes to 130-tonne capacity all-terrain models and Murphy has plans to extend this range.
"We are looking at capacity and starting to reinvest. Cranes are now a separate part of the business – a different business with its own dedicated operational structure. We can now start focusing on it," he said.
Murphy joined Hewden in January 2015, taking over from Kevin Parkes who unexpectedly announced his departure in December after more than five years at the helm. Murphy was previously chief operating officer at rival hirer Speedy – albeit for just a few months, having taken up the post in April 2014.
His career has also included spells with top power tool manufacturer Hilti, engineering group United Technologies and cladding manufacturers Pilkington and Arcelor-Mittal. Besides developing the crane business, Murphy said that he wants to forge closer links with the supply chain and focus more on equipment that will deliver a quick return on investment. Hewden's "core fleet" concept, launched in late 2012, has proved a great success said Murphy. This idea – essentially to guarantee next-day delivery on the 30 most-hired items in the fleet – has proved popular with the target market of smallto medium-sized customers. Murphy is now extending this idea by teaming up with attachment manufacturer Miller to offer a range of boom-mounted breakers along with its excavators.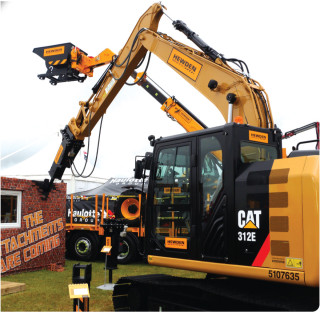 The £1m deal will see Miller supply a range of hydraulic breakers modified to Hewden's own specification. This includes auto-lube and Tracker anti-theft systems as standard on each unit, and a custom-made hanger-plate to make each model compatible with both JCB and Caterpillar mounting systems.
Murphy believes that this line of products is a largely untapped market in the hire sector. "People don't do attachments very well in the UK. They're more complicated to manage and are usually regarded just as an add-on. But we will offer breakers for hire. We think it'll drive us closer to the customer," he said.

Last year Hewden invested around £60m in new plant. This year it will invest a similar sum, said Murphy, much of the spend going on developing new lines. "We will invest where we see a good return," he said.
That could mean more cranes and more accessories and attachments – Murphy mentioned small hoists, generators and other ancillary equipment. He doesn't rule out power tools, either.
"I don't want us to become a hire 'shop'," he said. "We're not a retailer, but we are looking at other ways of approaching this sector – maybe with more of a site presence or on-line." Murphy feels that Hewden has failed to realise its full potential in recent years. "The people are great and it's a wellestablished brand but it's lost its way a bit," he said.
"For the past couple of years, Hewden's been focused very much on house-building and I think we've neglected the big contractors and major projects to some extent," explained Murphy.
Ironically the core fleet idea, though sound, could have led to Hewden focusing on just one, albeit major, sector. Murphy wants to explore other areas – events, oil and gas, renewables and infrastructure are among the markets he'd like to address more directly.
Hewden has in its favour a lean structure, a good network of depots and a loyal customer base – the core fleet guarantee is very popular with small- and medium-sized customers, he said. "What we don't need are more depots. We have 30 and that's plenty.
"But we will get out of some unprofitable product areas and into more profitable ones," he said. 
This article first appeared in the July 2015 issue of The Construction Index magazine. To read the full magazine online, click here.
To receive you own hard copy each month in traditional paper format, you can subscribe at
http://www.theconstructionindex.co.uk/magazine#
Got a story? Email news@theconstructionindex.co.uk