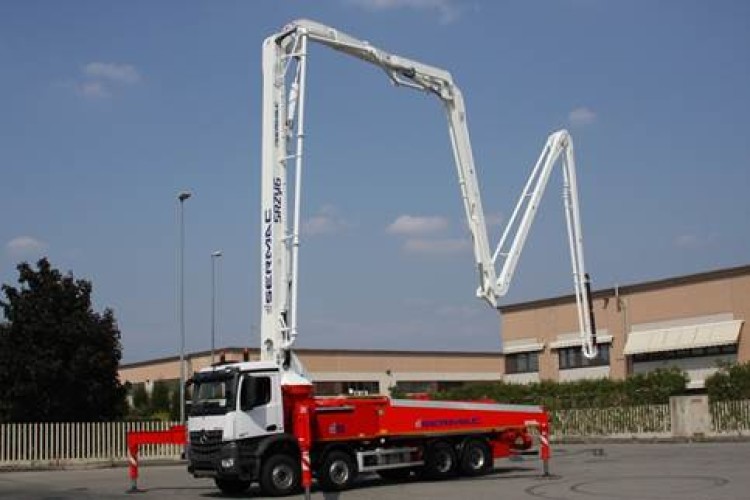 The five-section multi-fold boom of the 5RZ46 provides 46-metre reach for pumping concrete. It is mounted on an 8x4 cab chassis. Through the use of high tensile S900 steel, it weighs in at less than 32 tonnes, within the UK weight limit.
The multi-fold 'RZ' boom design combines both roll-fold and z-fold opening for manoeuvrability and allows the boom to open into its full reach of 45.1m at just 9.1m height. With a 4.8m wheelbase, the vehicle is also agile for its size, Utranazz says, making it good for placing concrete in the awkward and confined spaces.
The 5RZ46 Superlight has a maximum output of 150 cubic metres per hour and can discharge concrete at a horizontal reach of 41.1m and a downward reach of -33.1m. The hydraulic stabiliser legs have also been designed so that the pump can set up in minimal ground space (rear 8.0m, front 8.3m). This, combined with the flexibility of the boom, means that the pump is able to work on a wide variety of projects from tunnelling and small DIY building jobs to concrete placement at 14 storeys high.
The Sermac soft-stroke pumping system enables soft pumping with a continual flow of concrete over distances of up to 500m through static pipeline. This ensures movement is minimal at the end of each changeover stroke, which in turn makes the pipeline easier to control for operators and makes the placement of concrete a cleaner process. 
Got a story? Email news@theconstructionindex.co.uk