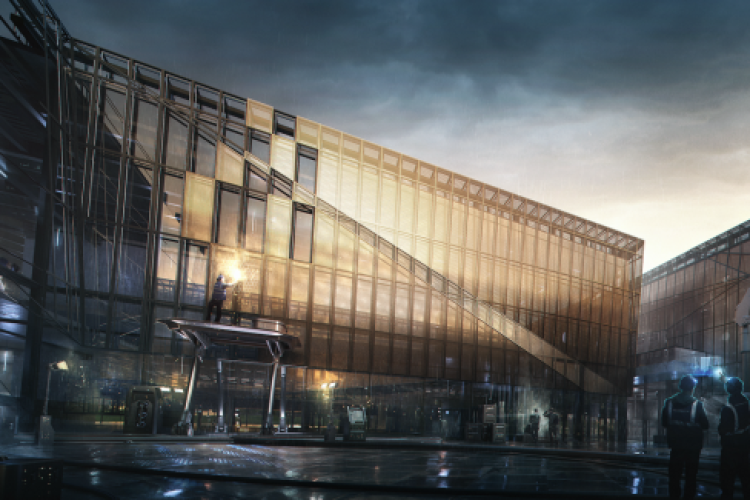 Salon Architects has appointed it to coordinate the design of structure, façade and mechanical, electrical and plumbing (MEP) engineering. "Our role is to simplify complexity to make the Museum buildable and to make it work for visitors, curators and the city itself for many decades." said Newtecnic CEO Andrew Watts.
The building, located in the Topkapi district, is currently under construction and due for completion in mid-2019.
Newtecnic had already had an involvement in the project since the early design stage. As part of its new role Newtecnic will optimise the façades, main structure and MEP of the design for fabrication, assembly and installation. The work will be carried out by Newtecnic offices in both the UK and US.
 "The deceptively simple building envelope gives the appearance of being a solid mass that, through the provision of massive splits in the façade, invites visitors to explore the 8,000-year story of Istanbul as though they are entering an archaeological site," said the company.
Newtecnic's US and UK based research and development teams have produced original algorithms to ensure the interrelated structural and MEP parameters of the building are fully examined, understood and optimised. This includes all building components, fabrications and assemblies, and their junctions, comprising the 100m-long museum.
The museum facades have been engineered by Newtecnic so that the building's cantilevered floors appear to hover while the main building mass is detached above the glass walled ground floor. Lidar-equipped drones can be extensively used throughout the construction phase to monitor the accuracy of the as-built construction against its digital counterpart.
The triangulated and folded monolithic façade is designed to help take visitors on a journey through the city's rich history. Within the 38,000m2 museum, natural transformations of light and shade are modulated using perforated metal veils that provide glare-free vision and efficient insulation against Istanbul's extremes of temperature.
"It is very gratifying to be appointed to complete the designs that we initiated at the competition stage," said Watts. "By blending enclosed exterior open-air rooms and exposed interior spaces the Museum will be an exciting place of discovery and learning."
Newtecnic will oversee the local construction of large high-performance metal facade panels and specially designed fixing assemblies.  Watts said: "The use of additive manufacture and 3D printing of verified building components, in advanced on-site construction labs, means that this project could be delivered on time, within budget and to a very high-quality level.  Through extensive use of technology, we have achieved and surpassed all aesthetic and performance expectations."
The idea is that, for future maintenance, a Newtecnic Construction Lab will generate replacement façade components that are installed by robots and 'cobots' – collaborative robots.
Got a story? Email news@theconstructionindex.co.uk