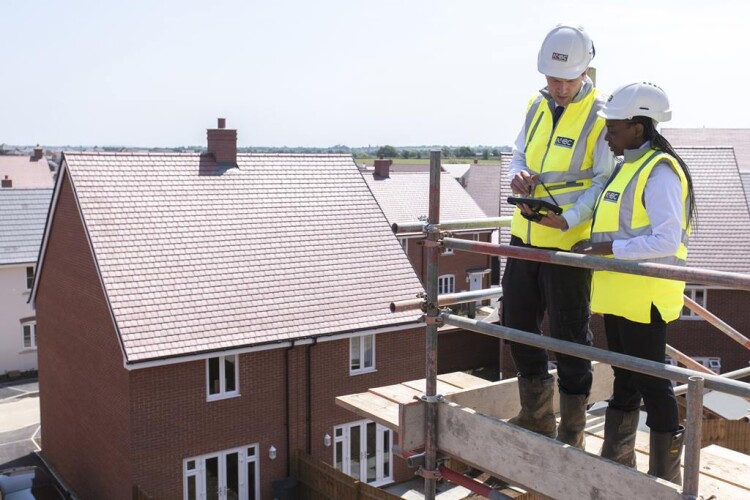 A total of 20,680 new homes were registered with the NHBC in July, August and September 2023, compared to 44,153 in Q3 2022.
New home completions in Q3 2023 were down 15% on Q3 2022, according to NHBC data.
NHBC chief executive Steve Wood said: "With stubbornly high interest rates, persistent inflationary pressures, an ineffective planning system and an increasingly complex regulatory environment, it is no surprise fewer homes are being built.
"Despite a significant decline in new home registrations in the quarter, the sector is fundamentally sound, with developers focused on completing existing projects.
"While consumer confidence has taken a knock over high mortgage rates and the increased cost of living, new home prices are generally holding up, in part because of incentivised sales."
New bungalows are becoming increasingly scarce. Only 228 bungalows were registered for NHBC warranties in Q3 2023, down 70% on the same period last year and the lowest figure recorded by NHBC in its 80-year history. Semi-detached homes saw the greatest number of registrations by house type, at 5,919 in Q3 2023 followed by detached homes (5,735) and apartments (5,393) respectively. 
Steve Wood said: "It is too early to say the bungalow is extinct. What we can see is they are certainly on the critically endangered list with economic and land pressures as well as changes in consumer demand contributing to a decline in their construction. Bungalows can be a more expensive option for both developers and buyers compared to two-storey homes.
"Traditionally seen as ideal retirement properties, the decreasing availability of bungalows is leading to new-build homes becoming more desirable for older people, with their modern layouts and increased energy efficiency."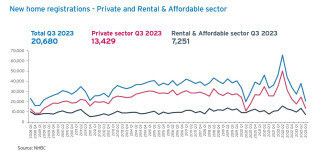 Across the industry, private sector registrations were hit hardest, down 57% on the same period last year. In Q3 2022 private sector registrations were 31,334; in 2023, just 13,429.
The rental and affordable sector saw a slightly shallower decline with 7,251 registrations in Q3 2023, down 43% on the previous year's 12,819.
"While private sector registrations have seen the biggest knock in the quarter, we are seeing several major house builders partner with housing associations and build to rent providers, re-focusing parts of their output on the affordable sector, Wood said. "This helps to address some of the demand for affordable homes, providing more options in the rental sector."
Across the UK, all regions saw a fall in new house registrations, apart from Northern Ireland which bucked the trend with a 52% uplift in registrations (1,258 in Q3 2023 compared to 826 in Q3 2022).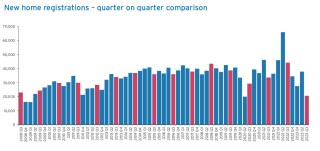 Got a story? Email news@theconstructionindex.co.uk