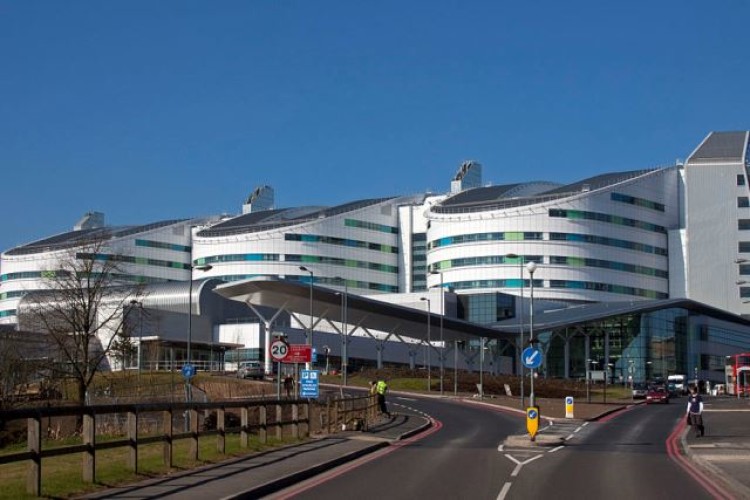 Several NHS hospitals, including the flagship £545m Queen Elizabeth Hospital in Birmingham, are at serious risk of fire due to inadequate or even non-existent passive fire protection.
With national attention focused on the role of combustible cladding in last month's devastating fire at Grenfell Tower in North Kensington, a specialist fire-protection contractor has told The Construction Index that a lack of inspection and regulation of the fire-stopping industry means that many new and refurbished buildings are unprotected.
Passive fire protection products are designed to inhibit combustion and prevent the uncontrolled spread of fire and smoke within buildings.
Intumescent products, designed to seal gaps in ducting or around fire doors, or forming an insulating layer on structural steelwork, require specialist knowledge to ensure correct installation.
Despite Building Regulations requiring minimum levels of fire protection within buildings, The Construction Index has been told that the application and installation of passive fire protection is poorly understood and that there is no effective system to ensure that it is installed and maintained correctly.
The industry source said that several cases of inadequate fire protection have surfaced recently at a number of new NHS hospitals but these are just "the tip of the iceberg".
Last year it emerged that University Hospitals Coventry and Warwickshire NHS Trust was spending £380m on remedial work at the Coventry and Walsgrave Hospital – a PFI hospital built by Skanska in 2006 and since found to have inadequate fire protection.
In 2015 it was discovered that the passive fire protection installed at the UK's first PFI hospital, Cumberland Infirmary, did not meet the required standards. This hospital was built in 2000 by an Amec/Interserve joint venture.
Other PFI hospitals where fire protection has failed inspections include Hereford County Hospital, the Royal Derby Hospital, Mansfield Hospital (Nottinghamshire) and the £545m NHS flagship Queen Elizabeth Hospital in Birmingham.
The industry source – a third-party accredited installer – told The Construction Index how fire-stopping problems at the Balfour Beatty-built Queen Elizabeth Hospital were discovered two years ago by Balfour Beatty subsidiary Mansell, which has the refurbishment and maintenance contract:
"We were invited in to assess the building and report back. We found that walls weren't finished – they didn't meet the soffits - and basically there wasn't any fire-stopping."
"The consultants [quantity surveyor Kavanagh Partnership] asked us to quote for putting it right and told us they wanted it done in six months and they had a budget of half a million pounds. We just fell about laughing," he added.

According to the source, passive fire protection typically accounts for up to 3% of the build value of a new-build project. To retro-fit within a finished building, the cost is likely to be much higher. "You're talking £10m to £20m over several years while you decant people and equipment and strip out all the finishes," he said.
Problems with shoddy fire protection have surfaced at these hospitals largely due to the nature of the PFI contracts, said the source. "These contractors have all be caught out by the 'occupied unavailability' clauses in their contracts which means that if the building is found to be unfit for purpose, the client can stop paying the rent until it's put right.
"A mini-industry has sprung up where people go around looking for these flaws. It's great for the NHS because they're not paying rent," he said; "Balfour Beatty has been absolutely mauled by these clauses."
Nevertheless, the problem of poor passive fire protection is not confined to PFI projects but is widespread, especially in large buildings designed for multiple occupants. "Hospitals, schools, hotels, apartment blocks – student housing, that's a big one, because they cram them in," said the source. He added that in private sector and non-PFI buildings, the absence of proper fire-stopping is likely to go undetected until a fire breaks out.
"The problem is that anybody can call themselves a fire-stopping installer and nobody checks their work". He added: "Building Control has the right to inspect fire-stopping, but not a duty. They never do because they haven't got the time or the resources."
His allegations are echoed by surveyor Arnold Tarling, an associate member of the Association for Specialist Fire Protection: "It's put in by people who don't know what they're doing, using products that are marketed as tested to a certain standard when in fact they're not."
He cites a recent visit to a new-build development at Deptford Bridge, south London, where he found inadequate fire-stopping in the electricity sockets sunk into plasterboard partitions between adjacent apartments.
Special fire-stopping putty pads are required to prevent a fire in an electric socket spreading, but if they're installed at all, it's usually by an electrician who is un-trained in passive fire protection systems.
"A fire in one of those sockets would spread immediately into the next flat. And it was the same in every single property," said Tarling.
The contractor who spoke to us concluded: "My view is that the lack of effective local authority building control has allowed poor workmanship to proliferate.  I feel for the LABC guys – there are hardly any left. The use of private building control practices who are paid for by the main contractor must be questioned. 
"This lack of resource has in my view contributed significantly to the cladding problems at Grenfell which will in time probably show a lack internal compartmentation. I'd like to see a reference to a lack of fire-stopping as many people we work for simply do not know what it is."
Got a story? Email news@theconstructionindex.co.uk