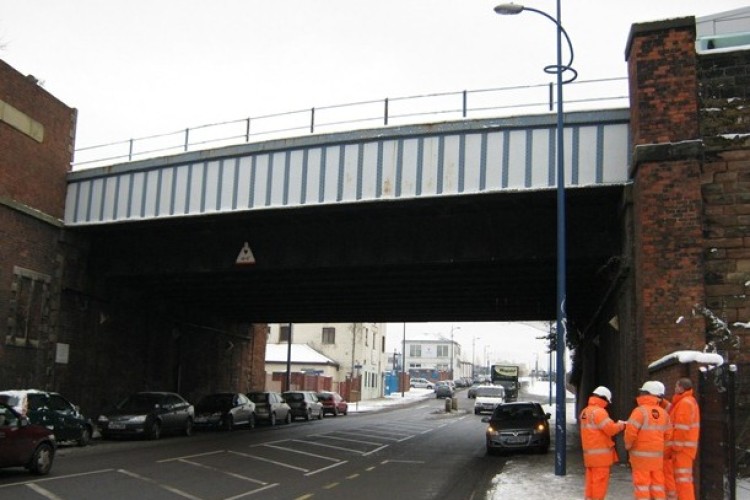 An existing steel rail bridge over Sandhills Lane will be taken out and two new U-type structures will be slid into place.
The original 1881 wrought iron structure is showing signs of corrosion.
A sliding operation is required because part of the new station building sits above the supporting structure for the bridge. Fortunately, when the new station was being designed it was done in such a way that the building is self-supporting.
Network Rail's scheme project manager Daniel Wilcock explained: "The existing bridge is a single structure carrying the two-track electrified rail route between Southport, Ormskirk, Kirkby and Liverpool Central. It is a key route for commuters and leisure travellers, so it is essential we replace it before it starts to have an impact on train services."
The bridge also carries more than 100 power, signalling and telecommunications cables, many of which are linked to the nearby signalling and electrical control centre that manages the entire Merseyrail operation.
Sandhills Lane has already closed for preparatory work and will remain closed until 29 December, with motorists using a signed diversionary route.
The closures were necessary so that Network Rail could build a temporary 'services' bridge to carry the various cables over the road and not disrupt rail traffic.

Also, ground conditions are such that more than 50 soil nails -  or ground anchors - each 30m long, had to be inserted either side of the bridge to prevent any movement in the abutment walls supporting it.
Work to remove the old bridge will start late on Christmas Eve and will continue until the line reopens in the early hours of Thursday 29 December.
The old bridge will be jacked up on a multi-axle vehicle and gently slid into a nearby compound. The same method will be used to slide the new bridge decks into place.
Once complete, the tracks and signals will be put back and train services will run again.
During January and February there will be a number of overnight road closures to accommodate the removal of the temporary cable bridges.
The photo beow shows the two new bridge decks awaiting installation.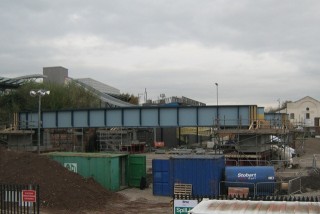 Got a story? Email news@theconstructionindex.co.uk