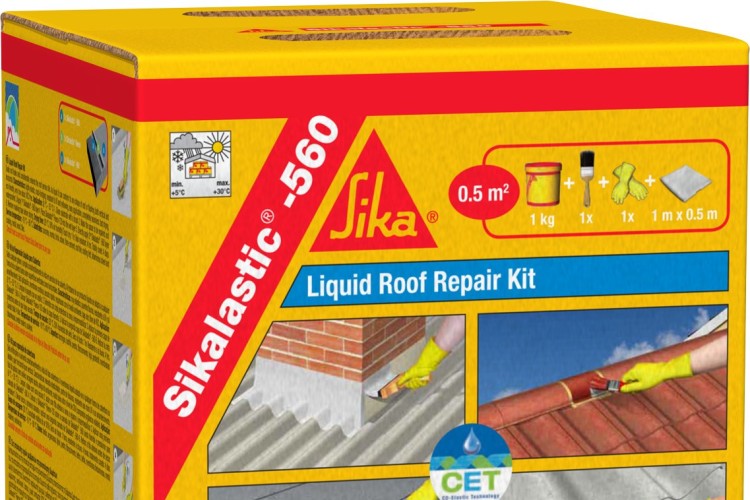 Sikalastic® -560 Kit is designed to offer a complete box solution for roof leaks and repairs. Ideal for the builder or DIYer, it contains the Sikalastic-560 liquid repairing membrane, the Sikalastic® Fleece reinforcement as well as gloves and application brush, in a convenient box with handles.
Applied in just two coats, with supplied fleece reinforcement in between, Sikalastic-560 can conform to any shape of roof or both horizontal and vertical flashing. Applied cold, the solvent free membrane dries quickly to create a highly elastic, UV resistant, long-lasting repairing solution. It can be applied to existing roof membranes, junctions and connections to roof coverings, roof lights, chimneys, drains, pipes, fissures and cracks of roof coverings and roof gutters.
In addition, other benefits include a low VOC content and because it's applied without the need for a flame it is the ideal solution for flame sensitive structures. Plus due to the special chemistry of Sikalastic-560 it can be applied without priming to both porous and non-porous substrates. The box contains enough roof repair liquid to cover approximately 0.5m2.
Jayne Hasoon, Product Marketing Manager at Sika commented: "The Sikalastic®-560 Kit is ideal for a wide variety of roof repair situations. The all-in-one style of box means once purchased the user has everything they need in order to carry out the job, making it complete solution to tackle leaks and waterproofing problems in a fast and easy way."
Got a story? Email news@theconstructionindex.co.uk