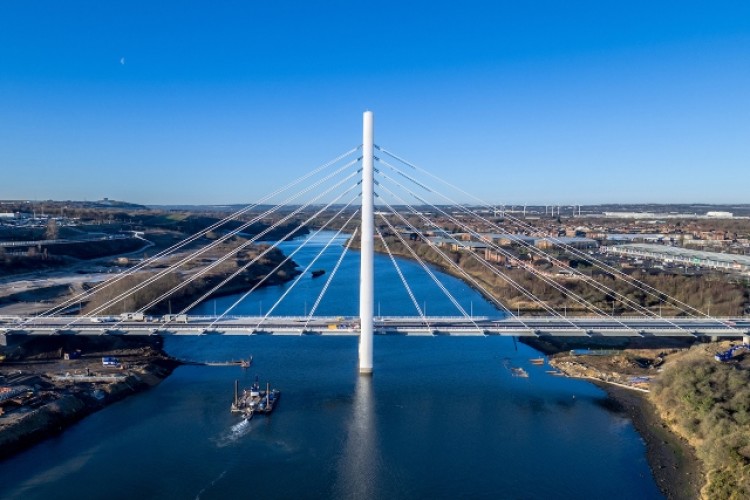 The cable-stayed bridge across the River Wear has a 105-metre high central A-frame pylon and a 330-metre span. First vehicles to cross it next week will be three made-in-Sunderland Nissan cars, although pedestrians will have the opportunity to cross it on Tuesday 28th August, the day before it opens to traffic.
Work began on Northern Spire in May 2015 – it was then called simply the New Wear Crossing. During the three-year build programme, more than 2,000 people have worked on the project, clocking up more than a million work-hours. It has been built within its allocated £117m budget.
The bridge was scheduled to open in spring 2018 but poor weather during the first four months of 2018 slowed progress on site, primarily the painting of the pylon, which required very still, dry, calm conditions, both for the painting and the use of high-level platforms that were required for the team to work from. 
FVB subcontracted cable installation to Bouygues subsidiary VSL International. There are 28 cables containing between 45 and 85 individual strands, depending on its position on the deck. The deck is made up of 674 concrete panels.
Project director Stephen McCaffrey from the Farrans Victor Buyck (FVB) joint venture that built the bridge for Sunderland City Council, said: "This is a huge moment for us, being so close to the opening of Northern Spire. I think I can speak for everyone who has worked on the project, those who live locally and those from further afield, when I say that it has been a huge privilege to be involved, and we feel immensely proud.
"It's been a major project that, at times, was both complex and challenging, requiring the skills and expertise of so many different groups of people. Bringing all those people together, sitting down and planning the project and the methodology to build it was one of the greatest challenges, but also one of the most satisfying. We are fortunate that we have had some very talented people working on this project, and it is those people who have made it a success."
Northern Spire links Pallion to the south of the River Wear with Castletown in the north. It has been built as part of the council's wider plan to improve the road network between the A19 and Sunderland city centre and Port of Sunderland.

It is phase two of a five-phase plan, the Sunderland Strategic Transport Corridor (SSTC). The next phase is a dual carriageway that will pick up where Northern Spire ends on the south side of the river, linking the new bridge to St Mary's Boulevard, going under Queen Alexandra bridge, and is expected to be complete in 2021.
Sunderland City Council project director David Abdy said the bridge was the culmination of decades of work, determination and perseverance by the council. He said: "Pulling off a major construction project such as this, with the government backing, funding and planning it requires, is an enormous task and is not something that can be done quickly, without a lot of strategic planning, and national, regional and local support.
"Northern Spire has been in construction for three years, but it has actually been in the planning for decades, so it's wonderful to see all that hard work come to fruition.
"It has come a little later than planned, but I think people will agree that it has been worth waiting for."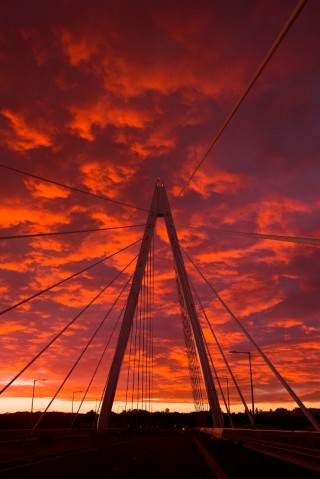 Got a story? Email news@theconstructionindex.co.uk