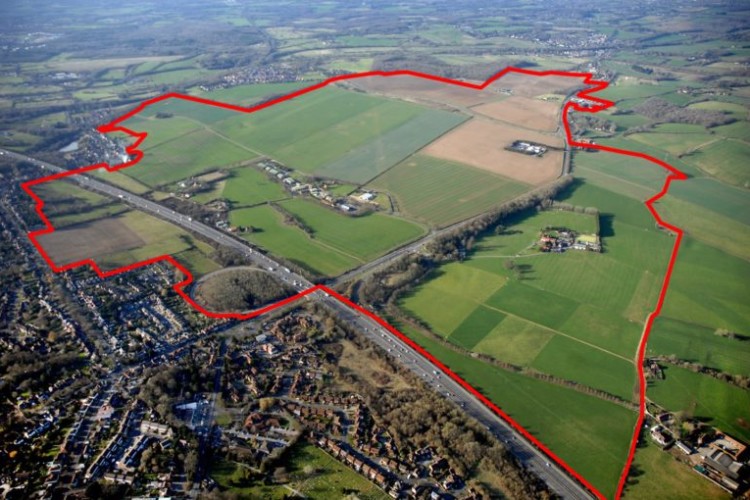 Buckland Development Ltd (BDL) is looking to build Welborne Garden Village on 1,000 acres of land on the north side of Fareham, across the M27 motorway. The plans envisage 6,000 new homes being built on the greenfield site.
BDL is a Hampshire-based development company chaired by Mark Thistlethwayte, the owner of Southwick Estate and majority landowner of the Welborne area. He has been working on the Welborne project for nearly a decade.  He is also involved in the proposed Berewood development at nearby Waterlooville with Grainger plc.
However, Fareham Borough Council is also looking to lead development of the new village itself and intends to begin the procurement process this month to select its own development partner. Its final choice is expected by the end of the year. [For details see www.fareham.gov.uk.] It remains to be seen whether BDL is chosen ahead of any other bidders that may emerge.
Part of the Welborne site is owned by a third party, Dean Farm Estate, which has now been told by the High Court that it must sell up to allow development to proceed.
Welborne was included in the list of government-backed garden village settlements announced by housing & planning minister Gavin Barwell in January 2017. Central government funding is therefore available.
In addition to 6,000 new homes, Welborne is intended to have shops, schools, healthcare facilities, sports pitches, public open spaces, parks and woodland.
The plans would also deliver infrastructure improvements for the area, including upgrade works to the A32, new distributor roads within the development and improvements to Junction 10 of the M27 motorway. Delivery of these improvements is envisaged for the early stages of the development with the combined support of public sector and private sector developer contributions.
BDL chairman Mark Thistlethwayte said: "We are delighted to be submitting our outline planning application for Welborne.  This represents years of hard work and effort from BDL and our extensive team of technical consultants – it will set the framework for future development.
"Ours is a very different approach to development, centred on a consistent, long-term vision with investment and delivery ahead of short term financial returns. We intend to remain involved in the delivery of the project to ensure our vision becomes reality.  This project is about more than just meeting local housing targets – we want to create an exemplar, sustainable garden community for the 21st century, with the facilities and infrastructure to serve future generations within Welborne and the wider area.
"Our hope now is that Fareham Borough Council will support our application and positively engage with us in order that we can focus on working together to provide the new homes, jobs and facilities that the area needs and at the soonest opportunity."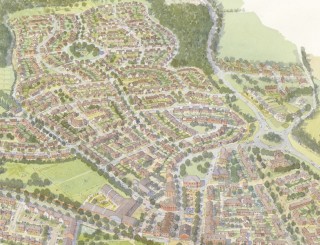 Fareham Borough Council said that its planning officers were reviewing the material submitted by BDL and will consult on the application. However, it still intends to invite other interested parties to get involved.
The extent and nature of BDL's relationship with the council is unclear. That the council has Welborne in its development plans suggests that there has been substantial co-operation with BDL at some point. That it has not (or not yet) authorised BDL to be lead developer could be due either to a lack of faith in BDL's competence or to a desire to take direct control into the public sector. Neither party provided a clear answer to this point when questioned.
Reading between the lines of a statement from council leader Seán Woodward yesterday, the issue all seems to centre on the Dean Farm Estate land, the alleged unavailability of which threatened the viability of the scheme. The councils is motivated only by a desire to make sure that Welborne actually goes ahead, it seems, and until it received BDL's planning application yesterday, it had doubts.
After a council meeting last night, Councillor Woodward said: "Without doubt the garden village designation, the recent court case ordering the sale of land at Welborne and the planning application received today are a direct result of the assertive delivery strategy adopted by the council just a year ago. Far from slowing things down, the strategy has actually pushed things forward and I am pleased to see the significant progress now being made. We came through a public enquiry which found the Welborne Plan sound, enabling it to be adopted by the council and had every expectation of an immediate application from the principal landowners. Instead there was no meaningful progress until we adopted our delivery strategy to appoint a delivery partner and consider compulsory purchase of all the land required. It was this strategy that sparked all of the recent activity and progress that has been made."
"Despite these new developments, however, the current uncertainty over the availability of the land at Welborne is key. The significant amount of land not currently within the control of Buckland Development Limited is considered necessary to enable the development to be delivered on a comprehensive basis, along with all necessary supporting infrastructure. As discussed at this evening's meeting, despite receipt of the planning application and the outcome of the recent court case, the reasons for our current delivery strategy remain unchanged and it is important for us to continue with it until we are certain that the much needed new homes are in a position to proceed.
"I have given a commitment over many years where Welborne is concerned that we will not lay a single brick of Welborne until we have identified exactly what infrastructure is needed, where it is to be sited and most importantly how it's going to be funded. That commitment is unchanged and this planning application will be scrutinised very carefully to ensure delivery of the Welborne Plan."
BDL, however, says that it had been happily working in cooperation with both the council and the other land owner, making plenty of progress, and was on course to submit its planning application a year ago. BDL says that in October 2015, the council told the landowners that it would no longer be engaging in the BDL planning application process and in January 2016 proceeded with its own plans to seek a development partner, by compulsory purchase order if necessary. This caused work on BDL's planning application to be delayed, it says.
BDL says that if the council gets back behind its application, it can start work on site by the end of 2018.
Aecom director Patrick Clarke has led the masterplanning on Welborne for BDL since 2008. He said: "Our masterplan combines the principles that inspired the UK's original and ever popular Garden Cities with best practice design approaches appropriate for today's context. We have integrated the best of the built and natural environments for Welborne's future residents and our plans lay the foundation for a place that will mature and improve over the long term. Creating an enduringly popular place where people will want to live, work and visit has remained BDL's primary ambition throughout the project's development."
For more details on the council's plans for Welborne, see www.welbornegardenvillage.co.uk
For details of BDL's plan, see www.bucklanddevelopment.com
Got a story? Email news@theconstructionindex.co.uk