Between June 2016 and July 2017 eight people were killed on UK construction sites by dumper trucks either hitting them or rolling onto them.
In addition to this, one insurance company alone had 127 personal injury claims for slips, trips and falls from forward tipping dumpers in the UK in 2016.
They can therefore be considered the most dangerous piece of equipment on a construction site. However, reform is now in the works.
One of the primary actors agitating for change is Tony Iles, managing director of Swindon-based groundworks contractor Tonic Construction.
He was spurred to act after employee Shaun Carter was killed on site in May 2016. Carter drove a dumper onto a spoil heap on a David Wilson Homes site and the machine overbalanced. He tried to jump clear but the machine landed on him and he was declared dead at the scene. He was 29 years old.
Another man who shares Iles' mission is Steve Jarvis, plant director of BAM Nuttall. His motive is identical; he too lost an employee to a site dumper last year. John Cameron died after he was struck by a dumper at Blackhillock Quarry in Scotland.
But where Jarvis is reluctant to discuss the subject publicly while legal wheels are turning, Tony Iles has no such qualms, as the owner of his own business. And he readily admits: "If I hadn't had the fatality last year, I wouldn't have set out to change the industry."
But changing it, he is.
Primarily at his instigation, the Construction Plant-hire Association and the Civil Engineering Contractors Association have set up an industry steering group for forward tipping dumpers. It met for the first time at the end of 2016, bringing together manufacturers, users and project clients, as well as the Health & Safety Executive. Highways England and HS2 are involved too, for the influence they can bring to bear on machine specifications.
Iles himself hosted a second meeting in January 2017 in Swindon. BAM Nuttall hosted a third meeting in Camberley in March. Then a fourth meeting was at the offices of the Civil Engineering Contractors Association (CECA) in London in May, followed by a fifth meeting at the Plantworx trade show in June.
All six manufacturers active in the UK market are on board. At the beginning of 2017 Wacker Neuson and NC Engineering were the only manufacturers that offered an enclosed cab on any of its dumper trucks. By the time the Plantworx trade show came around in June, five of the six were showing (if not yet selling) dumpers with cabs. That's progress!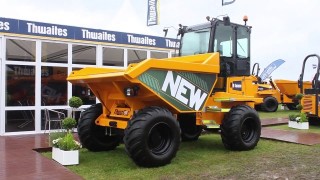 When the group meets for a sixth time on 28th September under the chairmanship of CECA chief executive Alasdair Reisner, the aim, says Iles, is to 'nail down a spec', setting out the kind of safety measures that UK users expect manufacturers to provide as standard. Tony Iles says that site dumpers typically used in the UK are just about the lowest specification in the world outside of Asia, unchanged for 30 years but for an electric starter motor, a lap belt and a tube of metal behind the driver's head.
"They have less braking power per square inch than a push bike," he says.
There are two primary goals: protect the operator, particularly in the event of an overturn; and make it less easy to run over site pedestrians. Protective cabs and better visibility.
While some of the details remain up for discussion, Iles says that there is agreement that enclosed cabs will now be standard on dumpers above six tonnes net payload. But he doesn't think this goes far enough.
"We think all dumpers down to three tonnes should have to have a cab," says Iles.
He accepts that three-tonne dumpers need to be exempt from a requirement to have an enclosed cab, at least for now, as the engines in this size of machine are not powerful enough to run an air conditioning/heating unit.
The new spec for site dumpers is likely to have an A-grade band and a B-grade band, Iles says. An enclosed cab will be required for larger dumpers, hydrostatic drive will be required only for A-grade dumpers, Iles expects, since not all manufacturers are able to offer hydrostatic drive or electronic braking.
Improving visibility for the driver is also important, either by design (lowering the skip/raising the seat) or technology (sensors and alarms).
Iles says that JCB's entry into the dumper market is perfectly timed and he expects the JCB Hi-Viz dumpers to take the market by storm, doing serious damage to the traditional UK market leaders Thwaites and Terex/Mecalac.
As we have previously reported, JCB began selling Terex dumpers in 2015 under an OEM agreement. Then in June this year it revealed plans to start making its own models in Rocester, unveiling an innovative prototype, with deliveries starting in 2018.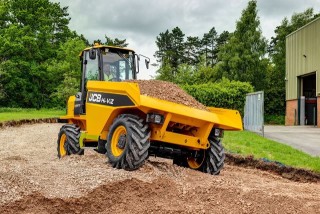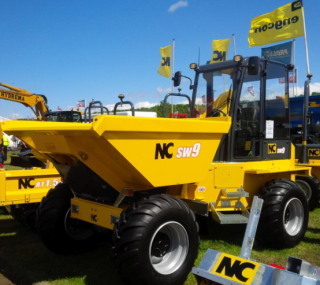 Neither NC, the Northern Irish manufacturer which launched a dumper with cab  at Plantworx 2015, nor Spain's Ausa has the economic power of JCB to take a lead in the sector, but Iles is happy to see JCB offering some serious competition to Wacker Neuson at the top end of the market.
Iles is impressed by what JCB has done to date, with a dramatically lower skip to enhance visibility and hydrostatic drive. He is unsure about how the Hi-Viz will perform in deep mud as the axles are also lowered, but he is sure that JCB will iron out any wrinkles before deliveries start in 2018.
Iles says that there is little evidence yet of any change in strategy from the new owners of the Terex Construction business in Coventry. Terex traditionally offered its equipment as a value proposition – cost effective rather than Rolls Royce. Mecalac, which bought the business at the end of 2016, has given no signal of having ambitions to take the product upmarket.
The HSE has been represented on the steering group by Ray Cooke, head of its construction sector safety team. He says that the group has been looking not just at the design of dumpers but also their use – using keyfob technology to prevent unauthorised users jumping into dumpers, and fitting inclinometers to trigger alarms in the event of an impending topple. BAM Nuttall, among others, has already taken action to prohibit the use of dumpers on spoil heaps, a common cause of overturns.
Moving to full remote control of dumpers, getting the operator off the machine altogether, is not yet being discussed although it is perfectly feasible.
The end-result will not be new laws, Cooke says, but just a raising of the benchmark. It is all being led by industry, and that is how it should be. Beside, with the UK in such a state of legislative flux, there is little appetite for law making until Brexit is done and dusted and we know where we stand.
Some equipment owners may naturally be concerned that a higher spec machine will only mean high cost, and there will doubtless be those who have yet to experience a fatality on their site who will bitch about 'elfnsafety gorn mad'. Cooke has naturally heard such voices often. But actually, he says, the higher spec site dumpers will not just be safer but in most cases more cost-effective. Not only will the industry as a whole be likely to save money in injury reduction, individual operations will be more efficient.
He cites the time and motion studies undertaken by Tonic Construction with a stopwatch to time all the mounting and dismounting the operator of an open-cab dumper has to do during loading. With a sturdy enclosed cab the driver can stay on board, eliminate slip risks, and turn round quicker. It does not take long at all to earn back the cost of the safety cab and then to start making a profit from it.
Why dumpers are dangerous
According to the HSE, 60% of fatal injuries involving dumpers are caused by an overturning machine crushing the operator. The remainder are mostly a pedestrian site worker in the vicinity of the machine being run over or crushed.
Operators are at risk because dumpers typically mount spoil heaps to tip their load. These slopes (usually unconsolidated) act as ramps to turn machines onto their side. At this point, human survival instinct kicks in; the operator tries to jump clear of the toppling machine and invariably fails. They are better off staying strapped to their seat and trusting the ROPS frame to protect them, but human instinct won't allow it. A toughened cab and four-point seat belt will keep them safe. Just ask a rally driver.
In fact, as discussed in a 2015 HSE research paper, they are probably not belted in the first place. The ROPS bar is behind the operator, out of the line of vision. It may offer some protection but it offers no sense of protection. The natural perception is that it is safer to be unbelted, ready to jump clear.
Site infantry are also at risk because the driver of a dumper filled with spoil has a severely impeded view. It takes great awareness, all day every day, to avoid accidents.
Another factor likely to be contributing to dumper danger is the very simplicity of the machines. Human behaviour is modified by the perception of danger and the dangers of dumpers are not as readily apparent as they are on a jack-hammer, a chainsaw or a tower crane, to take disparate examples. Just as anyone who can drive a car might think it easy to ride a quad bike, site dumpers are indeed easy to drive but currently too easy to crash. This is why the industry steering group is also exploring access control methods as well as machine design.
Tonic's bulk material transporters
Tony Iles is not just talking the talk on the industry site dumper steering group; he is walking the walk and changing the way his own company operates with regard to dumpers. Since the death of Shaun Carter, he has resolved that none of his employees will have to drive open-top dumpers again.
Tonic Construction used to hire 50% of the plant it used and own 50%. With a commitment to using only dumpers with cabs, Iles now has to buy all his own dumpers "because no one else has got them yet".
He approached German manufacturer Wacker Neuson with his requirements in 2016 because at the time it was the only manufacturer "with a half decent cab to start with" and the only one with hydrostatic drive, which means it cannot move without pressing the accelerator, so no freewheeling.
As of summer 2017, Tonic Construction runs 17 nine-tonne Wacker Neuson bulk material transporters (or BMTs) as he calls them, to distinguish them from traditional dumpers. He also has some six-tonners on order.
"By the end of the year, I intend to have zero open cab dumpers," he says.
BMT spec
The difference today between the cabbed machine advertised by Wacker Neuson and the machine sold as BMT spec that Tonic has is that the BMT has all optional extras fitted, thanks to dealer C&O Construction, including:
Additional SIPS protection cage around the integral cabin system and skip grid fitted to the rear of the skip – to protect the cabin/operator's compartment against falling materials and excavator bucket impact.
Front and rear cameras with  8-inch colour screen to eliminate blind spots.
Machine telematics/tracking unit with smart card activation. Starting the machine requires three pressure sensors to be activated – sit on the seat, put on belt, foot on brake pedal, plus the RFID card personalised to the designated operator, then turn the key. 
Heavy-duty KAB514C seat with integrated four-point harness – although "we're looking at five-point now," Iles says. If the seatbelt is undone, the engine cuts out.
The operator can safely stay in the air conditioned/heated cab during loading, eliminating the potential for slips, trips and falls while mounting and dismounting, and speeding turnaround times.
Iles is not too keen on bells and whistles, preferring good machine design to a reliance on electronics – the BMT has a reversing alarm but if you put too many noises and alarms on a machine, it doesn't take long for someone to put duct tape over the sensors, he says. "We are trying out a radar system on one of ours but the cameras already mean zero blind spots."
It could have been a different story, however. Back in 2007 Wacker Neuson asked Tonic Construction to trial a cabbed dumper "but we didn't like it because it was just a sweatbox. There was no air conditioning."
Iles now regrets sending it back with a 'no thanks', instead of a 'yes but please add air conditioning'.
Got a story? Email news@theconstructionindex.co.uk