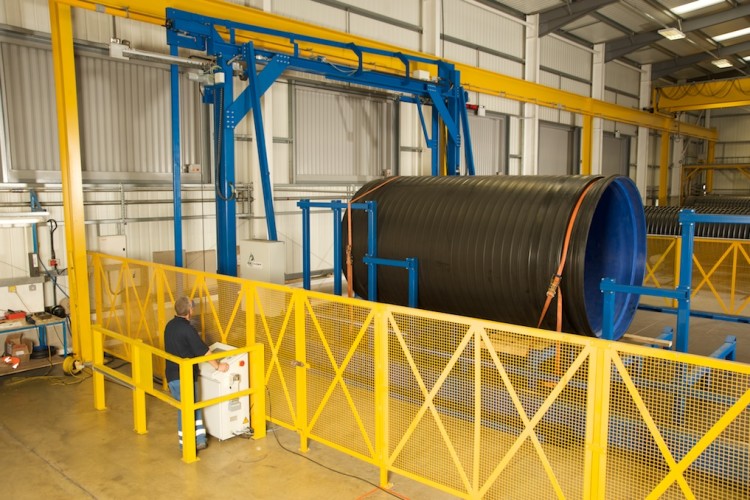 The band saw, which has a blade measuring 26 meters across, has been designed to cut sections of Ridgistorm-XL pipe of up to 3.5 meters in diameter.  It will provide a precise, automated method of cutting a full range of angles, offering a much more accurate alternative to other approaches.
As part of the new Ridgistorm-XL cutting process, each section of pipe is loaded and clamped into position by a line operator, who then programmes the angle of the cut into the control system before the product is cut automatically. This system ultimately offers customers a wider range of fabricated products and fittings within shorter lead times.
Rachel Smith, Head of Marketing at Polypipe Civils believes the new Ridgistorm-XL fabrication process is already delivering clear benefits.
She commented:  "The feedback we've had from the fabrications team has been very encouraging. Whilst our previous processes delivered a quality product for the customer, they were very labour intensive and many of the team felt that we could be more efficient. The new saw is much quicker, cleaner and safer as the team is carrying out less manual cutting. A lot of time was spent getting the specification right for the new machinery and we're delighted with the end quality."
As the UK's leading manufacturer of plastic drainage, sewer, water management and cable protection products, Polypipe Civils is dedicated to identifying new technology and manufacturing methods which improve product quality and customer service.
Got a story? Email news@theconstructionindex.co.uk