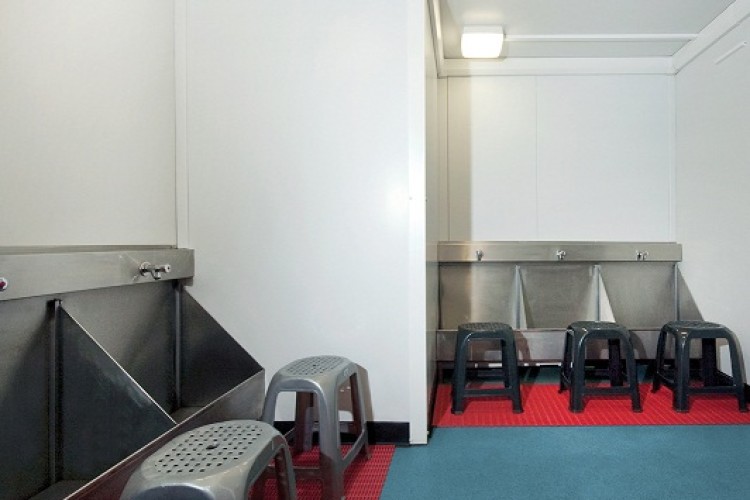 The Portaloo Natural and Purity buildings have been developed in response to an increase in demand for 'natural position' toilet buildings and wudu washing facilities.
The new Portaloo Natural building provides hygienic natural position/squat toilets which have a range of features:
A raised platform with integral drainage for ease of cleaning
Non-slip vinyl flooring which is both safe and hygienic
A hand-held cleansing head with coiled pipework
Regulated warm water
A partitioned lockable cubicle for privacy.
Developed following close consultation with users and facilities management teams, Portaloo Purity provides private and respectful wudu cleansing facilities used for the Islamic ritual to prepare for formal prayers.  The building is a spacious self-contained unit that caters separately for both male and female users.  It incorporates:
Easy-to-clean stainless steel fixtures
Individual washing stations
Dedicated entrance doors and separate areas for male and female users

Ergonomically designed seating for all heights
Push-button water control designed to minimise water consumption
A self-contained water heating system which is energy efficient and provides hot water without the need for a three-phase power supply
Flexible temperature regulation
Non-slip flooring with matting
Fan heating with thermostatic controls
Coat hooks and hand dryers.                                                                
The first application of the multi-faith personal washing facilities was a project at Brunel University, which had a requirement from students who required a high quality pre-prayer wash room while a major new building was under construction.  The interim building was needed to enable students preparing for prayer to wash their face, arms and feet in running water, with separate areas for men and women.                                                  
Commenting on the project, James Sweeney, Estates Manager at Brunel University, said, "The Portaloo building has proved to be a very good option for us. It is likely to remain on campus for around three years and we are confident that the quality of the building will ensure it performs well throughout that time."
"Our multi-faith student representatives have given us some very positive feedback on the new facility.  The project was successful because it was developed in close consultation with end users, and the expertise of the Portaloo team enabled us to deliver exactly what our students needed."
Portaloo has been manufacturing high quality toilets and shower rooms for nearly five decades, providing domestic-standard toilets, showers and changing rooms to the strictest hygiene standards, on programme and on budget.
Got a story? Email news@theconstructionindex.co.uk