Potain parent company Manitowoc has teamed up with hoist producer Alimak-Hek to develop operator elevators for Potain's full range of top-slewing tower cranes.
Two products have been developed: one that sits inside the crane's mast; and one that climbs up the outside. The external elevator is a standard solution that will be adaptable for all Potain cranes, using a dedicated access kit. The internal elevator, called CabLift, is a specially developed solution, designed exclusively for Potain distribution. Potain says that the internal CabLift option offers Potain crane owners reduced cost of ownership with ease of transport, assembly and storage – as well as an easier life for anyone who needs to go up the crane.
Manitowoc product manager Alexandre Chanteclair said: "Contractors are mindful of good ergonomics, and continually challenged by increasingly shorter jobsite time schedules – it is more important than ever for operators to have the comfort to operate with optimum levels of concentration."
Launch of Potain's CabLift system comes hard on the heels of arch-rival Liebherr launching its similar LiUP-System internal tower crane elevator (pictured below) earlier this year. The Liebherr LiUP-System is pre-installed, uses a double rack and pinion system and is powered by Lithium battery with no power cable.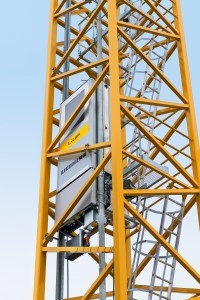 Got a story? Email news@theconstructionindex.co.uk