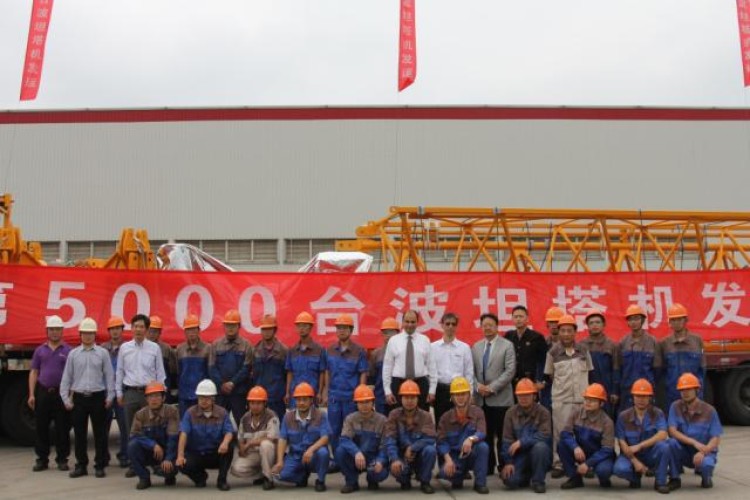 Malaysia-based YTL purchased the 5,001st crane and a handover ceremony was held at the facility to mark the occasion.
YTL bought the MCR 225 A Potain tower crane from Inflextec Engineering, Potain's Malaysian dealer. YTL had bought its first Potain tower crane in 1984 and now operates a fleet of ten MCR 225 As.
"We mix Chinese manufacturing with European design to create the highest quality tower cranes in China," said Jean-Noel Daguin, senior vice president tower cranes at Manitowoc. "All of our crane structures are manufactured locally, but state-of-the-art technology is imported from our sister factories in France."

Today, the 60,000m2 plant produces a wide range of Potain tower cranes, which range in capacity from 2.5t to 25t. It also makes components for other Manitowoc crawler and Grove mobile cranes. More than 50% of the factory's output is shipped abroad.
Yow Chee Keong, plant and machinery manager at YTL, said: "We've had a Potain tower crane in our fleet since 1984, but we recently invested in seven new units because of the significant improvements that Potain has made. They are extremely high performing cranes that are easy to use and simple to erect. We can also interchange masts and maintenance is easy. I am certain we will buy more Potain tower cranes in the future."
Seven of YTL's new MCR 225 As were purchased to work on the Fennel Sentul project in Kuala Lumpur. The cranes will work 16 hours a day for the next three and a half years as they build four 43-storey towers at the job site. The cranes will predominantly lift precast planking and steel walls measuring up to 40m in length. Three units are currently on site with the rest due to follow in the coming weeks. Once this project is complete, the cranes have already been commissioned to build four 50-story towers at a nearby mixed-use development.
Got a story? Email news@theconstructionindex.co.uk