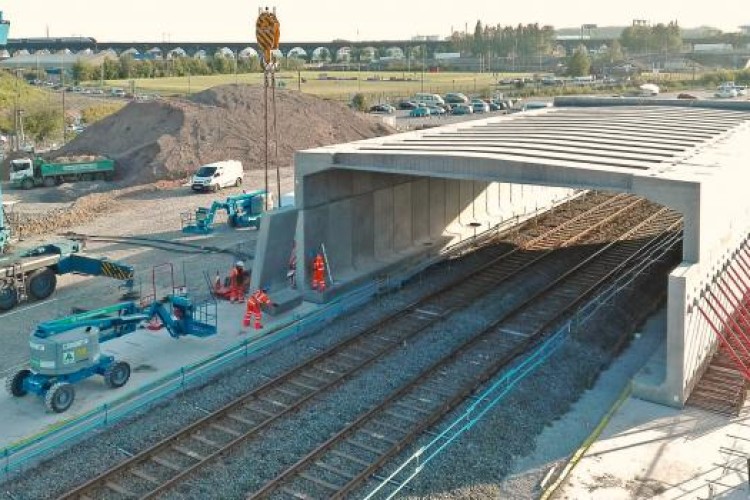 The skew-bridge is sited where the main north and southbound carriageways cross a rail freight line. It was manufactured off-site to permit rapid installation with minimum call on site resources. Despite having to work around continued rail operations and the vagaries of the British weather, the 3,700 tonnes of pre-cast concrete were installed in just 15 working days.
The new portal bridge has a 5.86-metre clear height with each 14.5-metre span supported on precast wall sections with 56 of the three-part portal units used to make up the total length. The portal vault units were stitched together with in-situ concrete to allow them to deal with the uneven loading imposed by the skewed crossing. The bearing-free design will minimise maintenance during the structure's 120 year design life.
"The ABM Portal System is ideal for where off site manufacture, under factory conditions, can deliver a higher quality product that can be quickly and efficiently installed on site with minimal disruption," said Mike Sanderson, ABM's business development manager. "The portal design uses the spring stiffness of an engineered soil block to create an extremely strong structure that uses materials efficiently with little environmental impact."

In addition to freight line bridge works, ABM has also supplied the project with 6.8 km of bridge deck facia panels, H4A and N2 vehicle containment parapets and ship impact protection for the piers where these adjoin the Manchester Ship Canal, which passes beneath the main south approach viaduct.
The Mersey Gateway is scheduled to open before the end of 2017 following a 1200 day construction programme.  It will provide a second crossing of the Mersey, connecting Runcorn with Widnes.
Got a story? Email news@theconstructionindex.co.uk