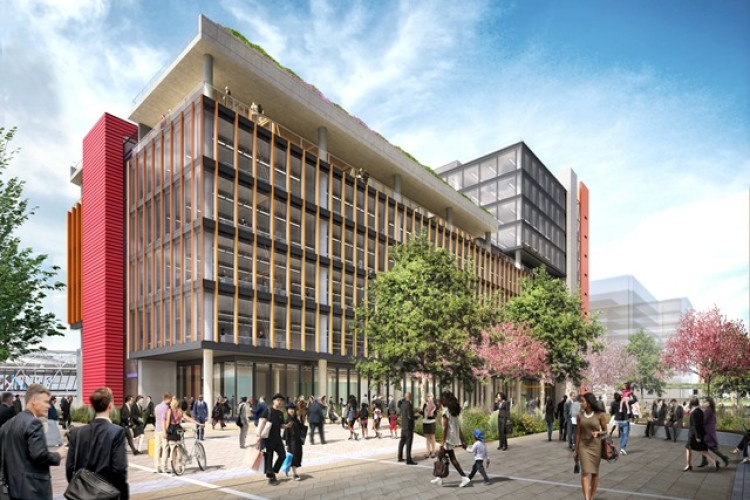 Joint venture developers Lendlease and London & Continental Railways (LCR) have sold a 278,000 sq ft commercial office building at International Quarter London (IQL) to DWS (formerly Deutsche Asset Management) for £240m.
Progress is well under way onsite with the first two residential towers now complete and more than one million square feet of office space already pre-let.
Investments from DWS and Legal & General totalled more than £615m for the first two commercial buildings, one of which Transport for London took handover of in September 2017 as tenant, and the other the Financial Conduct Authority took handover of in March 2018.
The building, which is currently under construction, is located at Redman Place in IQL and will form a significant part of the new neighbourhood being built at the gateway to Queen Elizabeth Olympic Park. On completion in 2019, the building will become the new headquarters to both Cancer Research UK and the British Council.

IQL reports strong interest from potential tenants for the remaining space in both buildings acquired by DWS. Unicef recently announced that it will move its UK HQ there, taking 25,000 sq ft.
Lendlease and LCR will continue to manage the delivery of the building through the Stratford City Business District Ltd (SCBD Ltd) joint venture until delivery is complete, when management will transfer to DWS. Lendlease is also acting as development and construction manager and providing capital markets advice to SCBD Ltd.
Dan Labbad, chief executive of Lendlease International, said: "Whether it be the sporting facilities, educational institutions clustered around Here East, or the East Bank – the Mayor of London's initiative for the arts – this area of the capital is being totally transformed. Investors' confidence is buoyed by the decisions of world-leading organisations, such as Unicef and the British Council, to locate their headquarters at IQL. Once complete in 2025, IQL will be home to businesses and organisations employing over 25,000 people, as well as incorporating residential properties, shops, restaurants, bars and some unique public spaces."
Got a story? Email news@theconstructionindex.co.uk