Proprietary hydraulic shoring equipment is a common feature of many projects involving deep excavations in the UK. But in most of continental Europe it's still almost unknown.
The traditional method of supporting the sides of deep excavations is to drive either steel sheet piles or concrete piles (either contiguous or secant) and then brace them with steelwork specially designed and fabricated.
Modular hydraulic propping has largely replaced this in the UK, the speed of installation saving time and the ability to pre-load the frame helping to minimise the risk of ground settlement once excavation commences. There is also the ability to incorporate real-time load-monitoring – a boon where there is a risk of damage to neighbouring properties from any ground movement.
Several specialists offer this equipment in the UK. But only one - Groundforce, the below-ground specialist arm of hirer VP plc – has made significant inroads into mainland Europe.
Its first venture outside the UK was in 2008 when Danish foundations specialist Per Aarsleff used the company's MP125 and HSK150 hydraulic struts to support a sheet piled cofferdam measuring 32m x 25m on a project in Kolding, southern Denmark.
This was followed by a second contract with Aarsleff, in the city of Aarhus, in 2009. Then in 2010 Groundforce became the first company to supply modular hydraulic support equipment in Germany, this time to support a major excavation at Liebherr's ship-to-shore crane factory in Rostock. Shortly afterwards the company opened an office in Hannover, its first outside the UK.
Since then, Groundforce has supplied several projects, not only in Germany and Denmark, but also the Netherlands, Belgium and Sweden. In 2013 the company appointed Venice-based engineer Jacopo Zabeo as its official representative in Italy and last year completed its first major contract there, supporting the basement excavation for the new M9 Museum of the 20th Century on the Venetian mainland.
This has now been followed by a complex temporary propping solution to support a concrete diaphragm wall during construction of a new navigation basin on the River Po at Isola Serafini, a village about 40km downstream of Piacenza in Northern Italy.
The new navigation basin forms part of a €40m (£32m) project for client AIPO (Inter-regional Agency for the River Po) to extend the navigable length of the river. The new construction will replace the existing basin, built during the 1960s and no longer usable for most of the year due to reduced water levels. Once completed the new basin will make the Po – Italy's longest river – navigable all year round and will increase capacity with 37km of new waterway.
At 115m in length, 12.5m wide and with a water depth of at least 3m even in low water conditions, the new basin will accommodate vessels of up to 110m in length and 11.5m wide, with a net displacement of up to 2,000 tonnes.
The basin required an 18m-deep excavation, supported by a concrete diaphragm wall constructed to a depth of 35m. This requires substantial temporary works to withstand the high lateral loads and Groundforce's hydraulic propping system was chosen as it appeared to offer several advantages, including a reduction in costs and build time.

"For this project the challenge was to provide a propping system spanning 28m, which was able to support very high loads with high thermal variations," explains Groundforce representative Jacopo Zabeo.
"The aim was to provide the contractor with a flexible system allowing our props to be moved rapidly as work on the site progressed," continues Zabeo. "This meant they could complete all the work with a limited number of props. In order to cover the 110m of the excavation, only 16 props were used; these were installed on two levels and spaced at 5.5m centres."
The original design had assumed a bespoke fabricated steel solution to support the excavation, but as Giordano Ciarlo, technical supervisor with contractor Consorzio Cooperative Costruzioni (CCC) of Bologna, explains, the Groundforce option promised easier installation and more reliable performance:
"Applying (bespoke steelwork) braces in a sandy soil in the presence of groundwater would have been difficult, as we have seen in other large hydraulic projects in other Italian regions," he says. "And the traditional system of propping with metal framing could have caused problems during removal because of expansion, with a potential risk of accidents."
On this project, and for the first time in Italy, Groundforce's remote load monitoring system was used, a system which allows the actual load in the hydraulic props to be wirelessly monitored in real time and to a high degree of accuracy. This allows contractors and designers to monitor the performance of the supports continuously - which is a significant advantage on sensitive sites or when observational methods are being used.
According to Ciarlo, "the advantages of Groundforce's technology are remarkable as the hydraulic props can be adjusted with a monitoring limit value up to 900 tonnes – although on this site we set a lower limit of 650 tonnes – with load monitoring devices monitoring the load continuously".
Zabeo adds: "For this project Groundforce provided technical assistance with in-depth training for the client's technicians on how to use, install and maintain our equipment, after which the client has undertaken the installation and removal of our props".
The only operation Groundforce's technical team continued to oversee on the site was the wireless load monitoring system installed in the props.
Groundforce's props will continue supporting the excavation until all the concrete structures are finished and the lock gates are in place. The project, which started in 2011, is due for completion in 2017.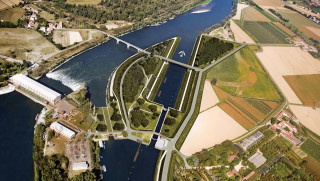 Got a story? Email news@theconstructionindex.co.uk