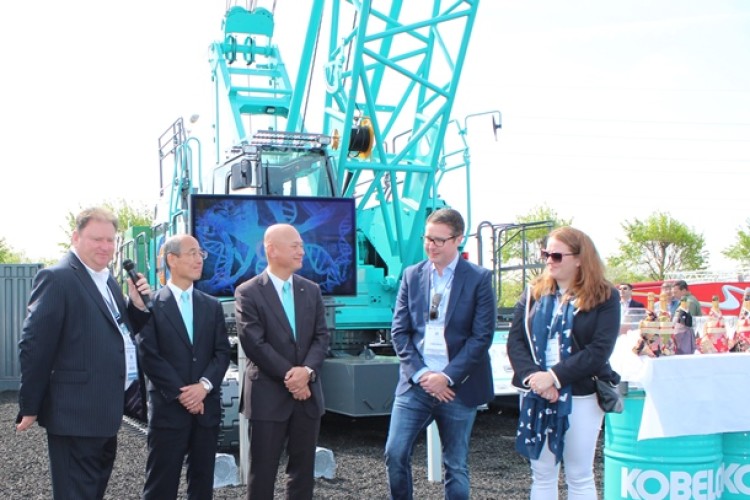 Manchester-based Q Crane ordered five new Kobelco crawler cranes, including a CKE1350-G2, two CKE900-G2s and two CKE1100-G2s in February. A ceremony at Intermat marked the handover of the first machine of the five-crane package to arrive from Japan, a CKE900G-2.
When all five have been delivered later this year, Q Crane will have a fleet of 32 Kobelco crawler cranes for hire.
Anthony Quinn said: "We bought our first CKE900G-2 in 2016 and our customers have been enthusiastic about its capabilities ever since. The compact dimensions, ease of transport and assembly, backed up by Kobelco's high quality engineering and service support, mean this is a great fit with our crane rental fleet, giving us a larger capability in the all-important 100-tonne lifting sector."
The CKE 900-G2 craness, which have a maximum lifting capacity of 100 tonnes at 3.6 metres, are being supplied with a 57.9-metre main boom and an 18.3-metre fixed fly jib.


The CKE 1350-G2, which has a maximum lifting capacity of 135 tonnes at 4.5 metres, will be supplied with a 61-metre main boom.
The CKE 1100-G2s have a maximum lifting capacity of 110 tonnes at 3.6 metres and will also be supplied with a 61-metre main boom.
All five cranes are fitted with Kobelco's KCross remote operation management system, which helps to maximise machine efficiency and uptime, and Kobelco's new Stage IV engine. The cranes are also supplied with a 360-degree multi-camera system, for an all-round view of the working area of the crane, and an in-cab colour monitor.
Got a story? Email news@theconstructionindex.co.uk