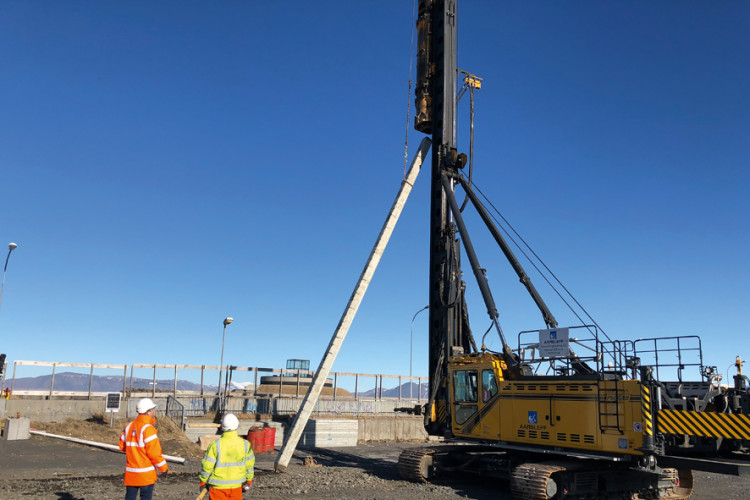 There are several reasons why a designer should want to choose driven precast concrete piles. They are factory-made and therefore of reliable quality. They are 'greener' than in-situ alternatives, with reduced energy and carbon consumption and generating less waste. They remove the need for additional traffic movements in and out of the site and they generate no spoil or arisings during installation. On urban brownfield sites, this means there is also no hazardous waste to dispose of.
In soft ground where lateral forces are likely – for example, on a slope – driven precast concrete piles can be installed both vertically and raked at an angle to counteract any lateral movement. For this reason, driven precast piles were at one time used regularly in the UK for bridge abutments. But in recent years they have fallen out of fashion – largely due to uncertainty over interactions of the piles with displaced and consolidated soils – and are rarely considered in design today.
These days, British designers tend to default to large-diameter vertical bored piles, though in mainland Europe and other markets, driven precast concrete piles are often the norm, a combination of vertical and raking piles efficiently catering for the vertical and horizontal actions associated with bridge abutments, piers and many other structures.
Aarsleff Ground Engineering, the British arm of Danish civil engineering contractor Per Aarsleff, is one of the UK's leading exponents of driven precast concrete piling and has used the raking-pile technique extensively, most notably in 2015 when over four hundred 350mm square-section concrete piles were installed for the Mersey Gateway project.
This project – a six-lane toll bridge crossing the River Mersey between Runcorn and Widnes – was built by a Kier-led consortium and comprised six separate sections. Aarsleff was awarded the contract for piling works on two of these sections – Ditton Junction bridge and Widnes Victoria Loops viaduct.
Work on these sections commenced in June 2015 following nine months of ground investigation and test piling.
The solution involved the use of a special cage former, developed in Sweden by another Aarsleff company, Centrum Pile, as well as the use of raked piles for the bridge abutment structures. The Centrum cage former and the company's A-class mechanical locking system were used to fabricate the steel cages that reinforce the piles.
Each pile cage had a complex internal structure which included a tightly-pitched helical component and additional 40mm rebar to withstand the forces being applied to the piles by the overlying structure.
Foundations for the bridge at Ditton required Aarsleff to install 174 piles, each 20m long, while for the foundations under the Victoria Loops approach viaduct to the new bridge, some 244 piles were installed, each 21m in length. A Junttan PM20s, equipped with high- performance 7-tonne and 5-tonne hammers, was used to drive the piles.
The use of raked precast engineered piles on this project overcame some of the many variable challenges associated with the project, ranging from space restrictions through to contaminated ground.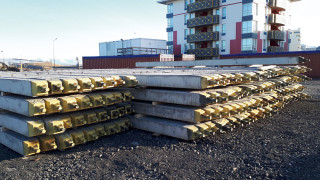 More recently, Aarsleff has used the technique on a new multi-storey residential development in the Icelandic capital, Reykjavik, for main contractor Istak. One of Iceland's leading civil engineering contractors, Istak was acquired by Per Aarsleff in 2015 to give the company access to new markets in Iceland, Greenland and the Faroe Islands.

The project – called Keilugrandi – comprises four separate blocks, from two to five storeys, containing 78 apartments. The client is Búseti, a social housing co-operative.
Aarsleff Ground Engineering transported one of its Junttan PMx22 rigs from the UK to install the piles which were themselves manufactured in Sweden by Centrum Pile.
Precast concrete piles come in a number of different section sizes up to 600mm square, with reinforcement arrangements available to satisfy a range of design requirements. The piles used in Iceland were 270mm square in section and were driven through soft fill, founded in rock at depths between 7m and 12m.
The piling was carried out by Richard Judd, one of Aarsleff's longest-serving rig operators with 24 years with the company. During his nine days on site towards the end of March, Judd installed 267 piles, some vertical, others raked at an angle of 10o in accordance with the foundation design. The work was completed a full three weeks ahead of schedule.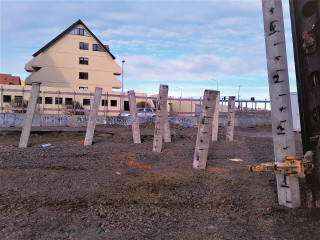 "The raking piles were required to stabilise the earth in the event of seismic activity," explains Judd. "This required detailed planning and coordination. Due to the angle of the raked piles I had to determine the exact sequence of pile position and rig orientation to ensure we didn't miss any piles out and didn't make it impossible to drive any of the piles in," he adds.
One of the reasons raking precast driven piles are seldom used in the UK is the belief that the displacement and compression of the earth will affect the properties of the surrounding ground. Some designers go so far as to recommend that driven raking piles are not used where significant consolidation settlement of the soil may occur, generating large and unquantifiable secondary stresses.
Despite this, research carried out jointly by Aarsleff Ground Engineering and Sheffield University has recently determined that a combination of vertical and raked driven precast piles can offer a beneficial improvement in foundation efficiency over a comparable large-diameter cast-in-situ vertical pile with approximately 10% less concrete and 5% less steel required.
Further research is now underway to find out more about soft soil displacement and to clarify the optimal parameter range of precast pile use.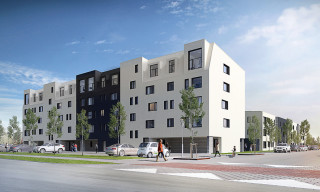 This article was first published in the June 2018 issue of The Construction Index magazine, which you can read for free at http://epublishing.theconstructionindex.co.uk/magazine/june2018/
UK readers can have their own copy of the magazine, in real paper, posted through their letterbox each month by taking out an annual subscription for just £50 a year. See www.theconstructionindex.co.uk/magazine for details.
Got a story? Email news@theconstructionindex.co.uk