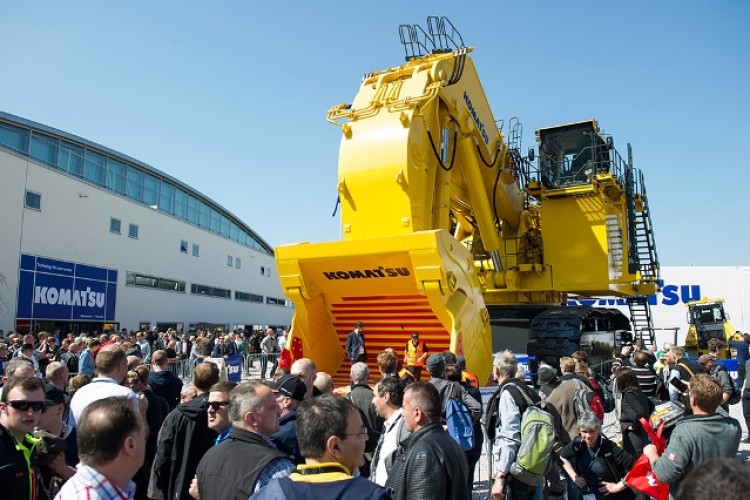 Attendance was up more than 9% on the last Bauma in 2013 and visitors came from 200 countries over the course of the seven-day event between 11th and 17th April.
A total of 3,423 exhibitors­ – 1,263 from Germany and 2,160 from abroad – presented their products, developments and innovations on a record 605,000 square meters of exhibition space.  Exhibitors from outside Germany accounted for 63%, which was higher than ever before.
Klaus Dittrich, chairman & CEO of event organiser Messe München, said: "The response from the participants this year was amazing. The visitors at Bauma always come looking to invest, but this year the exhibitors' order books filled up much faster than expected. Many exhibitors are talking about a record level of demand at Bauma 2016. And that is an extremely positive sign in this current uncertain climate."
Johann Sailer, chairman of German's machinery manufacturers' association VDMA , predicted that the event would stimulate industry growth. "Bauma is the ideal platform for presenting innovative new developments, because it has a big impact in the industry around the world," he said. "Again in 2016 the world's largest show of construction machinery will deliver impetus for further growth in our sector."

Liebherr-International director Stefan Heissler added: "Bauma 2016 was a tremendous success for Liebherr. We received many orders from a wide variety of different markets. In some segments our expectations were even exceeded."
Jürgen and Stefan Wirtgen, managing partners in the Wirtgen Group, agreed:  "Bauma as the leading trade fair has always been a kind of barometer for the industry and from the start it had a very special significance for our company. Our presentation at this year's Bauma is the most successful so far in the history of the company."
Said Masatoshi Morishita, managing director & CEO at Komatsu Europe: "This event is a milestone for the industry. It's not only Komatsu that tries to get certain machines ready in time for Bauma. This trade show really drives the entire industry forward."
The next Bauma, the 32nd edition, takes place from 8th to 14th April 2019 in Munich.
Got a story? Email news@theconstructionindex.co.uk