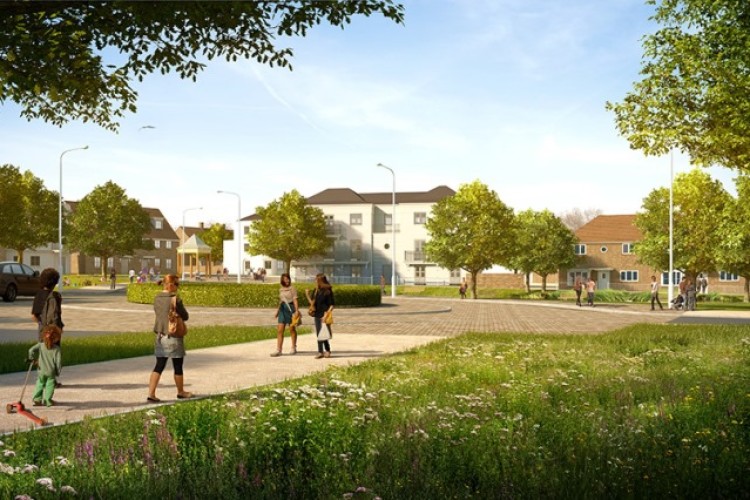 The second phase of the 2,550-home development will comprise approximately 250 homes and has a gross development value of £55m. In line with the outline planning consent, 40% of the homes will be affordable, with work expected to start in the new year.
Grainger said that it picked Redrow as its partner through the tender process because of its expertise in delivering quality houses and its track record in design.
The plot for phase two sits within the 'Garden Suburb' section of Berewood, where design, density, material choice and house styles reflect the traditional 'arts and crafts' style of the original garden suburbs. This style favours natural materials, simple designs and a hand-crafted appearance. Green spaces will be prioritised and extensive green infrastructure, including sustainable urban drainage system (SUDS) channels, extensive tree planting and new landscaping will be installed. The plot will be surrounded on three sides with woodland and open space and will unlock the land which will become the town park at the heart of Berewood.
Phase two will also see Grainger install infrastructure for the housing plots, including local road junction improvements. The location of phase two is towards the southern end of the site so that it will not to overlap with phase one at the northern end of the site, where Bloor Homes is already building 194 homes.


Redrow Homes (Southern Counties) managing director John Allan said: "This imaginative and well planned Garden Suburb is the perfect location for our arts & crafts inspired Heritage Collection. The acquisition of land for approximately 250 plots is an important milestone in our plans to expand Redrow's newly created Southern Counties division. We are looking to grow to an output of around 500 new homes per annum over the next three to five years in an area that includes the counties of Hampshire, Surrey, Berkshire and West Sussex.
"We would hope to secure a detailed planning consent for the Berewood homes by spring 2014 with a view to making a site start in early summer."
According to the grand plan, the remainder of the planned 2,550 homes will be built over a further 11 phases over the coming years.
Got a story? Email news@theconstructionindex.co.uk