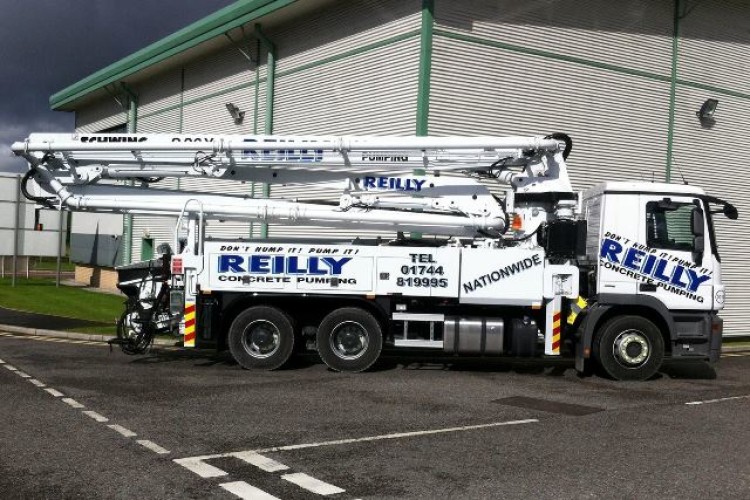 Reilly Concrete Pumping joins Camfaud Concrete Pumps, South Coast Concrete Pumping and Premier Concrete Pumping in Brundage-Bone's Oxford Pumping stable.
Camfaud, South Coast and Premier were acquired by US concrete firm Brundage-Bone in November 2016. The Reilly acquisition spreads the group's footprint into the north of the country.
Reilly Concrete Pumping was formed in St Helens in 1989 by Brendan Reilly, who is now 67 and ready to cash in. The terms of the deal were not disclosed.
Reilly's fleet comprises of a range of truck mounted boom pumps from 20 metres reach to a 52-metre Cifa. Its turnover in 2016 was £7.5m (2015: £6.8m) and pre-tax profit was £1.1m (2015: £0.7m).
Brundage-Bone's move to consolidate the UK concrete pumping market is backed by venture capital firm Peninsula Pacific Strategic Partners, which has been its majority owner since 2014.
"Brundage-Bone is pleased to welcome another premier business to the Oxford platform," said Bruce Young, president and chief executive of Brundage-Bone. "Similar to our other Oxford businesses, Reilly is a natural partner for Brundage-Bone in the United Kingdom given its outstanding fleet of mobile equipment, as well as proven reputation for excellent customer service and technical expertise."

Tony Faud, managing director of Oxford Pumping, said: "We are very excited to be joining forces with Reilly.  By adding the highly respected Reilly brand, we can now offer full national coverage to our customers. This investment will provide excellent opportunities for our management, staff and pump operators in the United Kingdom, whose hard work, skill and commitment are vital to our business."
Tony Faud was previously managing director of Camfaud and co-owner of South Coast in joint venture with Premier Concrete owner Damien Sheperd.
Brendan Reilly added: "We look forward to joining Oxford to create a company that can offer a first-class concrete pumping service across the United Kingdom.  We believe this transaction will offer a fantastic fit for Reilly's employees and will be a smooth transition for our customers."
Matt Homme, managing director of Peninsula Pacific, said: "We are proud of the differentiated and attractive concrete pumping services platform that Bruce, Tony and their teams are building in the United Kingdom.  Brundage-Bone will continue to strive to provide the best service levels, fleet and personnel resources to the market in both the United States and United Kingdom."
In the USA, Brundage-Bone and its affiliates employ approximately 725 people in nearly 80 locations in 20 states across the western, mountain, south-central, mid-western and southeast regions of the country.
Got a story? Email news@theconstructionindex.co.uk