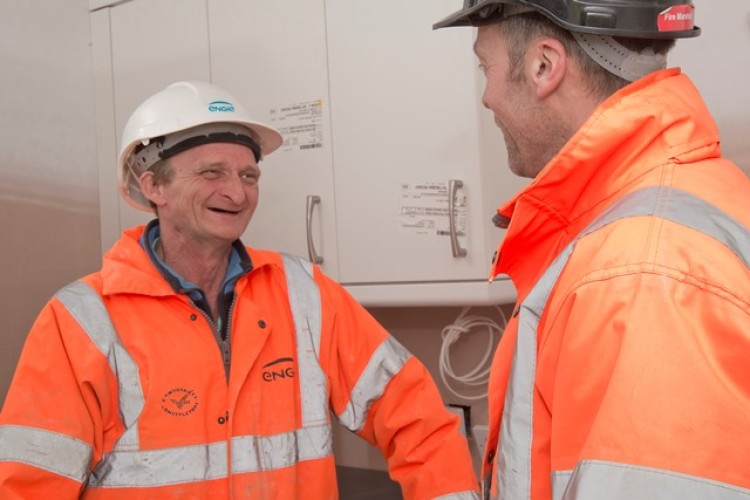 But he reckons there are enough years left in him to make it well worth starting something new.
"It's funny because I started off my professional life as an apprentice rider at 15 and I didn't think that 35 years later I'd be embarking on another apprenticeship," he says. "The reality is – I'm only 50 and so that's roughly another 20 years I could still be in work, so why settle for any job that will pay the bills, when I could do something that I love and still progress."
The former jockey recently relocated from Swindon to Darwen in Lancashire to be closer to his grandson after retiring from the sport last January.  His career options seemed limited.
Michael Schofield admits that when speaking with an advisor at a careers centre, he initially rejected the concept of an apprenticeship, thinking he was too old.
But after walking past a construction site near his home, he was inspired to explore a path in construction.

Within months, he had a Construction Skills Certification Scheme card and had begun an apprenticeship with full time training with Engie's regeneration business (formerly Keepmoat Regeneration). He is working on the very development he walked past that inspired his career move.
"There are so many people that are out of work or, like me, had a job that you can only feasibly do for a certain period of time; so I think apprenticeships are a fantastic way of not just getting people into the working world – but getting them back into work," he says.
"I picked construction as it seems like one of the few jobs where you really do climb up the career ladder and progression is fast.  It was also a welcome change to be on my feet instead of sitting on horses for hours.  My background in racing has definitely put me in good stead for this sector as racing is not dissimilar in that you start at the bottom and work your way up, while doing a real variety of tasks."
Engie divisional CEO Dave Sheridan says that actually Michael Schofield is far from unusual. "We have a number of apprentices in their 50s and 60s and so this actually isn't a unique case," he says. "We've always encouraged candidates from all walks of life to take advantage of our apprenticeship or trainee schemes and Michael is a real asset.  He's a shining example of why not to settle or think you're 'too old' for an apprenticeship as you are only an apprentice for so long."
Got a story? Email news@theconstructionindex.co.uk