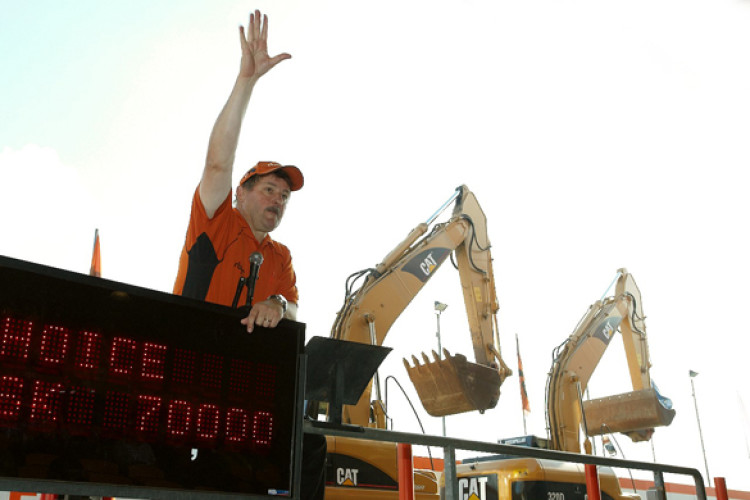 The timed auction approach, familiar to Ebay users, takes place online without an auctioneer and is open for bidding for a set period. Ritchie Bro. Auctioneers will use the method between Saturday 26th April and Tuesday 29th April to sell machinery attachments and smaller items. Larger and mobile plant equipment, tractors and trucks will still be sold in the live 'ramp' auction, with an auctioneer and bidcatchers at Donnington Park next Tuesday.
Ritchie Bros used the timed auction system at several auction sites around the world in 2010, enabling it to handle a higher volume of lower value auction items without an auctioneer and other supporting staff. It has not used the system in the UK before.
Anyone registered for the upcoming Donington Park auction can start placing bids on timed auction lots from Saturday. Bidders can use their own computer or mobile device to place bids via rbauction.com, or use the timed auction kiosks at the Donington Park auction site. On the day of the live auction at Donington Park next week, bidding will close on each timed auction lot at a set time and every item will go to whoever is the highest bidder at the moment the bidding closes.

More than 500 items will be sold exclusively through the timed auctions, including:
20 unused hydraulic hammers
25 unused excavator buckets
16 unused Emiliana Serbatoi fuel tanks
A range of handtools, including drills, sanders, disc-cutters and heaters.
The Donington Park live auction next Tuesday features more than 730 items of industrial and agricultural equipment, including:
Four unused 2014 Dynapac CC800 tandem vibratory rollers
10 Volvo A40E articulated dump trucks
19 telescopic forklifts, including a 2013 JCB 540-140
12 John Deere 4WD tractors (including several unused)
Click here for a full list of equipment for sale.
Got a story? Email news@theconstructionindex.co.uk