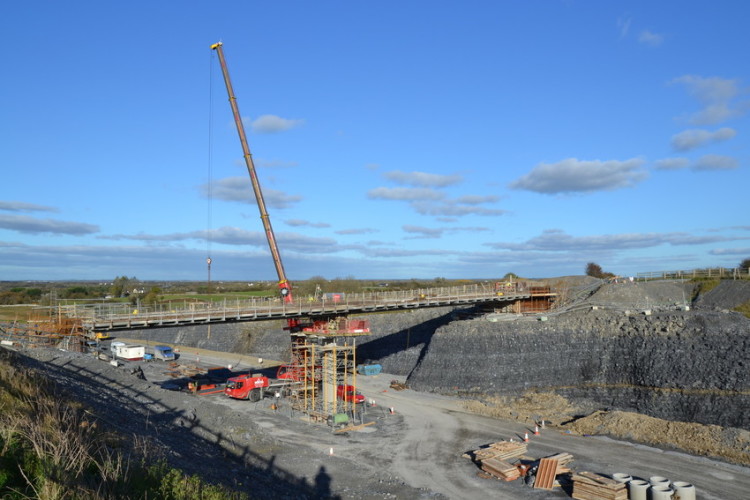 The system has been supplied to RAPs Construction for use on a 21km stretch of the motorway that includes 17 bridges and nine underpasses.
The project marks the first use in Ireland for Paraslim, a modular system that can be adapted to accommodate the varying lengths, heights and depths of a bridge - each of the 17 bridges RAPs were constructing were all different dimensions.
The overall motorway project is 53km long and will replace the N17/N18 roads. Work is being led by the National Roads Authority (NRA) and carried out by a consortium of civil engineering companies, including Lagan Construction. A multitude of bridges and underpasses are being built to ease congestion and remove bottlenecks.
RMD Kwikform has supplied RAPs Construction with the Paraslim table system, along with Megashor and Maxima panels.


Michael Smith, from RAPs Construction, said: "We're working for Lagan Construction across 21km of the new motorway, in total we're working on 26 structures - 17 bridges and nine underpasses. On 12 of the bridges we've used RMD Kwikform's Paraslim system.
"We spent some time looking for the best system in the market, as we needed something that was lightweight and easy to manoeuvre; the RMD Kwikform Paraslim table system definitely fit the bill. The first bridge on the project was actually one of the largest bridges, spanning 115m. Of course, as this was the first time the site team had used the system, we had the team from RMD Kwikform on hand to answer any questions and advise us on the best ways to actually utilise the kit."
The modular Paraslim system uses 'standard' RMD Kwikform kit, which allows for increased versatility. Engineers from RMD Kwikform Ireland branch provided support to the site team, advising on the best way to manipulate the system as lengths, widths, heights and depths changed from bridge to bridge.
Smith added: "We had the Paraslim kit delivered to site in its prefabricated form, this meant we could lift each module into position along the bridge deck with ease. Over other composite bridge formwork, we found that RMD Kwikform's Paraslim is lighter, quicker, faster, and much easier to manoeuvre; it's quick to go up and quick to come down and strip – we're very pleased with it."
Got a story? Email news@theconstructionindex.co.uk