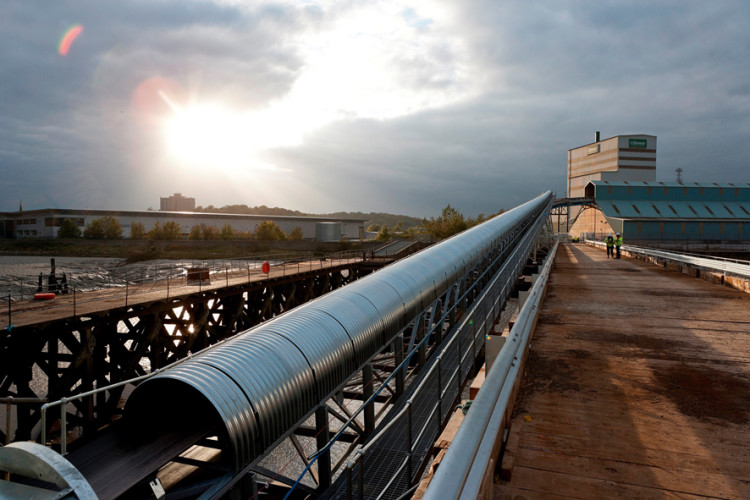 Like just about every other industry, construction is striving to be more sustainable and to conserve the precious – and finite – natural resources we use to build. For the highways sector, availability of aggregates and bitumen remains a key concern. In south east England in particular, virgin aggregates are scarce and the road-building sector relies on imports from quarries elsewhere in the UK and abroad.
Perhaps even more critically, oil refining processes are becoming more sophisticated with the result that the availability of cheap bitumen as a by-product of oil refining is under increasing threat.
Contractors and materials suppliers have responded to this challenge and made great strides forward in recycling over the past decade. Today it is quite common for the surface layer of new roads to incorporate up to 10% recycled asphalt pavement (RAP). Globally, however, we still rank behind other market leaders. In Japan, an average of 47% RAP is incorporated within surface course mixes, and in the US some pioneering projects have achieved a RAP content in excess of 70%.
In the UK, we need to up our game if we are to deliver the investment our network needs. The government has committed to investing over £600bn in national infrastructure projects over the next decade and the second Road Investment Strategy (RIS2) will map out long-term improvements for our road network.
Although a much-needed boost to the industry, this programme of works will put further strain on resources. We need to look at ways to increase our use of recycled materials even further – pushing the boundaries of current best practice to incorporate 20%, 30% and ever-higher percentages of recycled materials within our roads.
Achieving this relies not just on increasing the amount we recycle, but understanding how we can design roads that perform better, providing greater resilience for longer, to maximise the use of our resources and control costs.
On the face of it, road recycling seems to be an easy fix. In the UK alone there are over 245,000 miles of roads with the potential to offer a wealth of re-useable materials which can be incorporated into new asphalt mixes.
But it is crucial that the incorporation of recycled material into new asphalt mixes does not compromise quality. Our goal is not simply to boost the availability of resources, but to maximise their potential. We need therefore to understand how we can design new mixes that equal the performance of virgin asphalt, or even surpass it.
To do this, we need to be able to measure materials – collating and analysing data on composition and performance that allows us to adapt and enhance asphalt mixes.
This relies on the ability to simulate real-world conditions in the laboratory. Only then can we accurately predict the lifespan and performance of recycled materials on the road. FM Conway has been working with the universities of Nottingham and New Hampshire to do just that: developing a method to trial materials accurately in the lab to mimic the pressures of climate, wear and tear and ageing in actual use.

New technology also gives us the ability to test and evaluate materials in use on the network itself. Tools like 'intelligent' pavers allow us to build a database which tells us which material was laid on which route – creating a data trail from design to manufacture and to the pavement.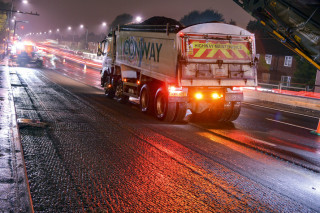 Laboratory research and real-life testing is essential to designing materials that will combat the causes of road failure – for example building in increased flexibility to reduce cracking, or resilience on heavily-loaded routes against rutting of the pavement. It means we can keep testing and pushing the boundaries of material specifications to maximise resources and improve our ability to recycle.
In addition to meeting the challenges of finite resources, this data-led approach to road design and manufacture allows us to counter future threats facing the network.
Escalating traffic volumes compounded by increasingly erratic weather conditions brought on by climate change are taking their toll on our roads. The recent cold snap brought on by the so-called 'Beast from the East' saw an increase in pothole-related breakdowns as roads did not have the designed-in flexibility required to contract in the colder temperatures. The result was widespread cracking leading to the failure of asphalt surfaces.
Being able to design-in flexibility and resilience will ensure we can futureproof our roads against these challenges. Not only will this result in long-term cost efficiencies, but also minimise the need to repair and replace our roads so frequently.
As one of the UK's leading road maintenance contractors, FM Conway is doing its bit to extend the lifespan of roads by investing in the manufacture of polymer modified bitumen to create flexible binders and more durable road surfaces.
This article was first published in the May 2018 issue of The Construction Index magazine, which you can read for free at http://epublishing.theconstructionindex.co.uk/magazine/may2018/
UK readers can have their own copy of the magazine, in real paper, posted through their letterbox each month by taking out an annual subscription for just £50 a year. See www.theconstructionindex.co.uk/magazine for details.
Got a story? Email news@theconstructionindex.co.uk