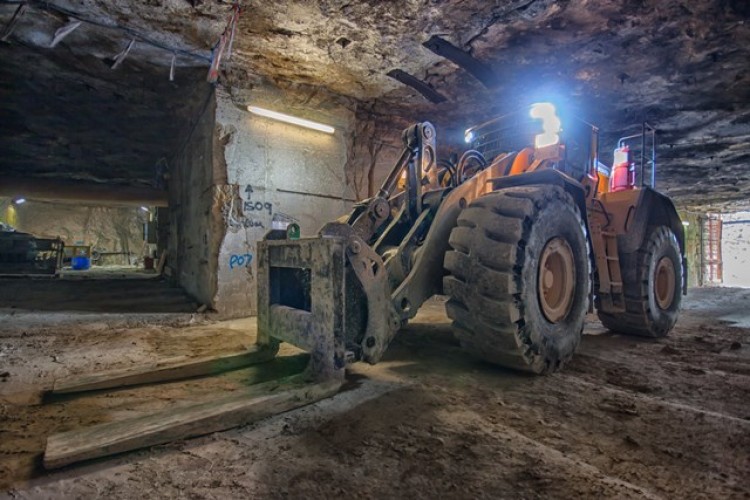 The new machine will be deployed across the Jordans and Bowers stone mines on the Isle of Portland. It joins forces with the first machine delivered at the end of 2014.
The new 25-tonne loading shovel has been supplied with an identical specification to the first L150H, with a reduced height operator's compartment for working inside the mines. "We've been very pleased with the original machine and its capabilities in extracting the stone blocks from the working faces," said mine manager Mark Godden. "As we are significantly increasing the production at both our Jordans and Bowers mines as well as bringing a new mine, Stoneshill, on stream this year, it prompted us to add a second machine to cope with the demand."
The two machines have the cab height reduced by 350mm. They also have a 3.8m³ spade nosed bucket for cleaning up and heavy-duty 1500mm block forks capable of handling blocks weighing up to 12 tonnes.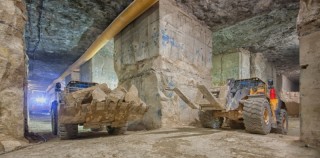 Besides its main activity of extracting stone blocks from situ, the new L150H carries the blocks to the mine entrance where they are sorted and cut to customer requirements. The machine then carries the sawn material up to a marshalling area where it is then loaded on trailers to be transported to the cutting shops. To aid this, the L150H has been fitted with Volvo's optional ride control or boom suspension system together with Bridgestone 26.5 x 25 VSDT L5 tyres. In addition the machine is used to backfill waste material from the mining process into worked-out galleries in the mine using the general purpose bucket and it was considered that a spade nosed bucket was more suited to this task.
The machine has also been equipped with additional safety features for working underground. These include a fire suppression system, double pole battery isolator and a Chelwyn valve to meet mine regulations on exhaust emissions. To counterbalance the weights of the blocks, the machine has been fitted with an optional block handling counterweight and additional LED working lights.
Albion Stone has also added a 5.5-tonne Volvo EC55C compact excavator to clean up around the working areas within the mine and trim excess material from the working faces.
Got a story? Email news@theconstructionindex.co.uk