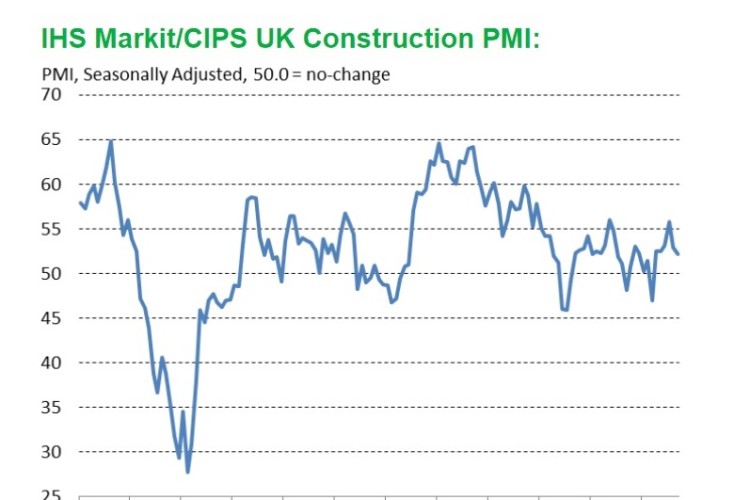 The latest survey of construction industry purchasing managers companies indicates that the rate of expansion slowed for the second month running.
The seasonally adjusted IHS Markit/CIPS UK construction purchasing managers' index (PMI) dipped to 52.1 in September, down from 52.9 in August. It remains above the 50.0 no-change mark but was the lowest score for six months.
Civil engineering was again the worst performing sub-category of construction work, with activity in decline. House-building and commercial construction continued to increase at a solid pace, although the latest survey indicated weaker growth than in August. A number of firms suggested that subdued economic conditions so far in 2018 remained a factor holding back business activity growth.
But while construction output is growing only slowly, new orders are growing more rapidly. The growth in new orders in September 2018 was the strongest since December 2016, which survey respondents attributed to resilient demand and an upturn in invitations to tender.
The improvement in new order books also drove a rise in staffing numbers – the latest increase in employment was the fastest since December 2015. Subcontractor usage also increased at the fastest pace for more than 30 months. Survey respondents noted that their own payrolls had been boosted by a larger than usual intake of trainees and apprentices in September. There were also some reports that tight labour market conditions had led to a strategic focus on long-term hiring policies.
Delivery times for construction products and materials continued to lengthen in September. Intense supply chain pressures were attributed to stock shortages at vendors and stretched transportation capacity. That said, the latest downturn in vendor performance was slightly less marked than the three-and-a-half year low seen during August.
Despite the new orders, optimism about the business year ahead declined. The degree of positive sentiment reported by survey respondents was the second-lowest since February 2013. Construction companies noted that political uncertainty and investor concerns about Brexit were preying on confidence in September. Where a rise in business activity was projected, forthcoming energy and transport projects remained the main areas of optimism.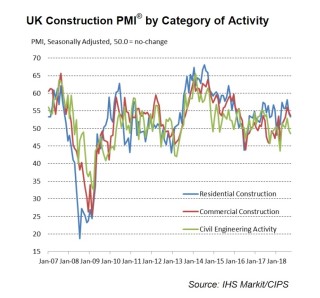 Tim Moore, associate director at IHS Markit and author of the IHS Markit/CIPS Construction PMI, said: "UK construction firms experienced softer output growth during September, with house building, commercial and civil engineering all losing momentum. A lack of new work to replace completed projects meant that civil engineering saw an overall decline in activity for the second month running and remained the main laggard.
"There were mixed signals in terms of the near term outlook. New order books trengthened to the greatest extent since December 2016, which indicates that construction workloads remain on an upward trajectory. Rising demand and tight labour market conditions led to robust job creation, with survey respondents commenting on a larger-than-usual uptake of apprentices in September.
"However, latest data showed that overall confidence about the year-ahead business outlook was among the lowest seen since the start of 2013. Construction companies continued to note that political uncertainty acted as a key drag on decision-making, with Brexit worries encouraging a wait-and-see approach to spending among clients. The main areas reported as likely to see a boost in the coming year were construction work related to large-scale energy and transport projects."
Duncan Brock, group director at the Chartered Institute of Procurement & Supply, said: "Despite the biggest rise in new orders since December 2016, the sector remained in a downbeat mood with business optimism at its second lowest level since the beginning of 2013.
"A cause of this malaise pointed to increased cost burdens with both fuel prices on the rise, and acute shortages in raw materials, as supplier delivery times have lengthened to an extent not seen since 2015. The Brexit blot on the landscape was still in evidence as housing activity slowed to a pre-April growth rate and clients hesitated to place orders. Civil engineering was hit the hardest however and under 50 for the second month in a row, which points towards another contraction.
"Workforce planning was not held back however, as the sector kept an eye on the future and increased operating capacity with the biggest rise in job creation since December 2015. Though the struggle for talent remained and many of the opportunities were for entry-level apprentices.
"This tale of feast and famine offers little in the way of reassurance and is more about holding on to stable growth than a sprint to the finish. The weakest overall activity in six months shows that caution and Brexit concern remain roadblocks to strong growth."
Got a story? Email news@theconstructionindex.co.uk