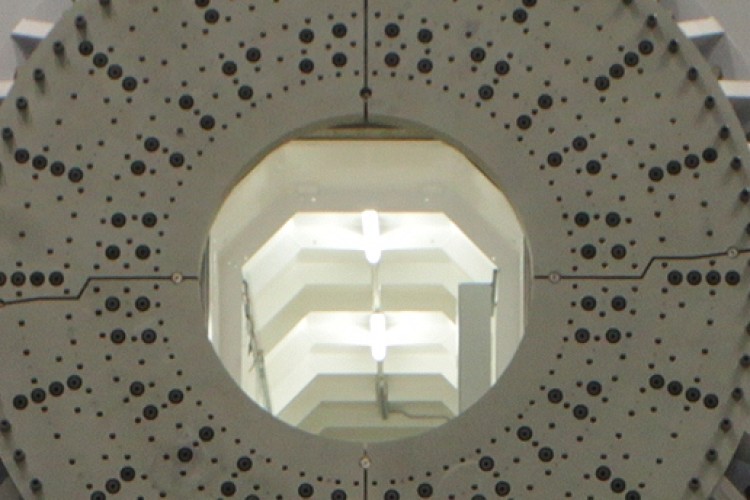 The contractor this week handed over the 5,700m² steel frame structure to the National Renewable Energy Centre (Narec) in Blyth, Northumberland.
The project is the second of three structures to be completed at Blyth as part of a £80m+ investment by Narec in world-class facilities for the accelerated testing of offshore renewable energy technologies.
The new Blade Test Facility will be the largest in the world and has been designed to test the longer blades being developed for larger offshore turbines. It will add significantly to Narec's existing capability for testing blades up to 50 metres in length.
Constructing the building, which at 123 metres long is only three metres shorter than Gateshead's Millennium Bridge, has required complex engineering. It also required building the test hub that will support the blades during testing.
Shepherd worked with Narec and the project team to find an engineered solution that would withstand the forces applied during testing and the vibrations that will be created.
The result is a test hub comprising a 15-metre high concrete superstructure with two huge rings.  The top ring of 8m diameter is designed to accommodate the testing of blades up to 100m. The smaller bottom ring will accommodate blades of smaller root diameter.  The hub arm includes substantial foundations.
To achieve the exact position of the rings within the concrete structure, 216 post-tensioned bars have been cast in to extremely tight tolerances of +/-3mm.  Special winches fixed to 132 circular steel rings in the floor have also been manufactured and will be used to flex the blades during testing.
Shepherd Construction commercial director Andrew Constantine said: "As there are currently no other facilities of this scale in operation, the project team has had to come up with a unique solution necessitating precisely calculated tolerances that will enable the structure to withstand the rigours of testing. This makes it all the more worthwhile to see the blade test facility handed over and on its way to helping the UK further advance the offshore renewable energy."

Narec CEO Andrew Mill said: "This is a unique facility which can accommodate the largest blades being developed for the offshore wind industry.  Shepherd Construction has worked with contractors and our own blade specialists to deliver a bespoke solution.  Narec will now commission the new facility ready for commercial operations at the start of next year."
Project team:
Client: National Renewable Energy Centre (Narec)
Project management: Turner & Townsend
Cost management: Turner & Townsend
Main contractor: Shepherd Construction
Architect: Red Box Design
Structural engineer: Arup
M&E engineer: SES
CDM coordinator: Turner & Townsend
Got a story? Email news@theconstructionindex.co.uk