When, earlier this year, the HSE published its provisional figures for the number of fatal workplace accidents during 2016/17, falling from height was no longer the biggest killer. 
In Great Britain, 25 people died from falls last year; but the main cause of death – accounting for 31 fatalities – was being struck by a moving vehicle.
Working in close proximity to plant and machinery poses a risk for even the most experienced construction operatives. And managing occupational health is particularly challenging for the highways industry, where operatives contend with the danger of ordinary vehicle traffic while working alongside planers, pavers, rollers and delivery trucks.        
This is a key area of focus for the industry and something the contracting arm of materials and aggregates company Tarmac has been working on to drive continuous safety improvements.  
As part of its effort to reduce risk on site and identify opportunities for improvement, teams across Tarmac's contracting business were asked to come up with ideas that might make sites safer places in which to work. These conversations identified an opportunity to improve the segregation of people and plant.
Mike McAndrew, general manager at Tarmac, says: "Our goal is zero harm, so we turned to our experienced surfacing personnel – some of the most well-worn boots on the ground – to find ways of improving on-site safety."
A working group of team members from across Tarmac's contracting operation – from site supervisors to roller drivers – was established to find operative-led health and safety solutions, drawing on first-hand knowledge of busy sites to examine working practices. 
By scrutinising previous incidents, the group quickly recognised that dangerous incidents, while rare, often involve some of the most experienced operatives.  It became clear that the group needed to find a way of improving the segregation of people and plant and significantly improving operatives' awareness of potential safety risks by reducing complacency around plant and equipment.
The Tarmac team discussed a range of solutions before settling on a new formula for safety success: the '5+2 People and Plant Segregation' initiative.  This proposed extending the exclusion zone to encompass a 2m space to the sides of moving plant in addition to reinforcing the 5m exclusion zone in the direction of travel of moving plant equipment to lessen the risk of contact between people and machinery.  
The new procedures were deliberately engineered to require input from both plant drivers and operatives on the ground, ensuring that the new guidelines were firmly embedded within working culture. Vehicles in a 5+2 zone, once at a standstill, must be directed safely past the workforce through eye contact between the driver and contracting personnel on the ground, remaining stationary until receiving a 'thumbs up' sign to indicate that they can pass safely.  They should also sound their horn before beginning to move.
 "By actively involving the workforce, the onus for safety is shared more evenly between the driver – who already has a very complicated job to manage – and the people on the ground," says Mike McAndrew.
"The board fully supported these suggestions from our personnel, so we began to explore how we could drive 5+2 forward."
A major breakthrough came from Danny Wilkinson, a site supervisor for Tarmac.  As a keen motorcyclist, Wilkinson had a well-developed appreciation of safe passing distances and the potential hazards of being on the road, whether for work or pleasure.
Having been invited to sit on the 5+2 working group, Wilkinson came up with a bright new idea.  
"I'd heard of lights that create a square on the road around bikes, to indicate to cars when they were passing too close.  When I was told about the 5+2 exclusion zone, the two things just clicked."

At his suggestion, Tarmac decided to fit high-intensity LED lights to its paving and compaction equipment to visualise the 5+2 exclusion zones.  In a sector where tight possession windows for assets often dictate night-time working, the idea had clear appeal.
The blue laser dots, noticeable by both day and night, make the exclusion zones visible even if an operative is not facing the plant's direction of travel and remove any guesswork concerning safe distances.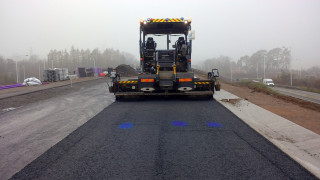 "We experimented with different styles and colours of lights and found that blue was most effective," says Wilkinson. "Red, for example, could have been mistaken for brake lights, and lines just weren't as visible as the dots.
"It's a totally new application for this kind of technology and could be a game-changer for the construction industry."
Early trials of the illuminated 5+2 initiative across Tarmac's National Road Planing (NRP) business and contracting gangs in the East Midlands and South Wales were a comprehensive success.  Tarmac says that, since the 5+2 campaign was launched at a business-wide safety day in January 2016, it has received strong positive feedback from its site operatives.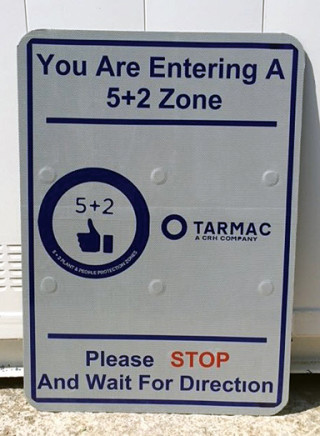 This has been reinforced through updates provided at the company's regular safety briefing sessions through the use of video content showcasing positive 5+2 practice. The high-intensity blue lights have also now been approved by the board and the rollout across all of Tarmac's UK contracting operations and NRP will be complete by the end of 2017.
"5+2 has been a great success and is a perfect example of what can be achieved when businesses collaborate with their operatives," says McAndrew. "Crucially, since the initiative was first brought in, no incidents involving contact between operatives and plant have been reported."
Tarmac is also promoting the technology to its highways supply chain partners and contractors up and down the country and, as a result, the initiative is now being adopted on the M25 network.
McAndrews concludes: "5+2 has demonstrated early success in reducing on-site accidents and encouraging operatives to continually recognise and stay alert to the dangers around them.  As the scheme continues to expand, it promises a brighter and safer future for construction workplaces."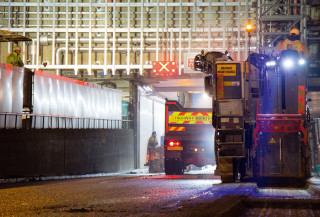 Tablet users 
Mike McAndrew explains the 5+2 system
This article was first published in the October 2017 issue of The Construction Index magazine, which you can read for free at http://epublishing.theconstructionindex.co.uk/magazine/october2017/
UK readers can have their own copy of the magazine, in real paper, posted through their letterbox each month by taking out an annual subscription for just £50 a year. See www.theconstructionindex.co.uk/magazine for details.
Got a story? Email news@theconstructionindex.co.uk