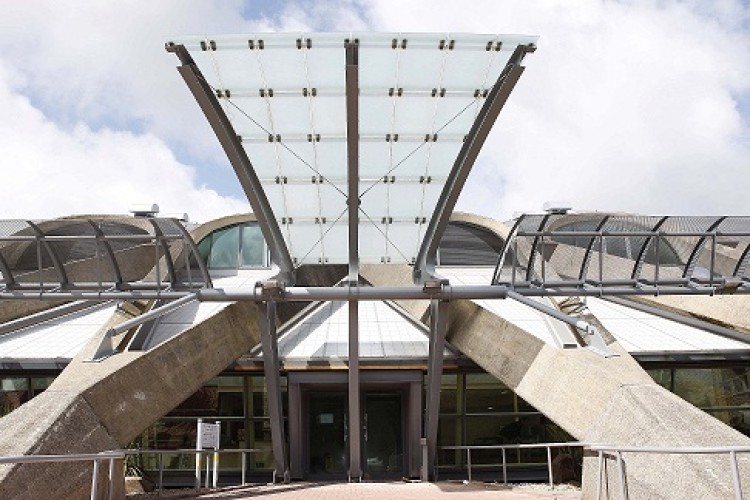 In keeping with the rigorous rules applied to ensure the Historic Scotland Grade A listed status is protected, global building products manufacturer Sika specified a range of products which would give this much loved building a new lease of life.
Built in 1968, a distinctive feature of this visually striking building is the pool tank which is supported in a 'cradle' of concrete columns and beams.  However, the tank's supporting concrete beams and peripheral supports and columns were suffering from cracking and spalling due to reinforcement corrosion. A further issue was the internal and external areas of the pool tank which had serious corrosion due to the failing of the internal tiling system. This had led to the breakdown of all the internal renders caused by the heavily chlorinated water.
In collaboration with South Lanarkshire Council's in-house design team, this demanding project necessitated an extensive design and specification process with the agreed methodology of stripping back of all tiling and rendering on the internal walls, floors and pool tank being agreed prior to the application of a range of Sika products by specialist subcontractor UK Gunite, working for main contractor Clark Contracts.
To ensure maximum durability and performance, the substrate of the pool tank was first lined using fibre reinforced dry spray concrete SikaCem 133F which enabled the effective application of the renowned Sika 1 waterproofing system.
The Sika 1 Pre-bagged Waterproofing System incorporates a specially developed admixture – a unique colloidal liquid – which is mixed with specially blended pre-bagged mortars. Once applied to the pool tank, walls and floors, the admixture reacts to any water ingress by turning into a jelly-like substance, blocking all gaps and capillaries, and providing an impregnable and invisible seal.  Bonding monolithically with the substrate, it essentially becomes one with the structure.
Further repair work to all movement joints and cracks were sealed with Sika's Sikadur Combiflex Jointing System. A highly flexible and elastic waterproof sealing system, it is resistance to thermal shock and movement making it ideal for swimming pools and a wide range of other applications including sewage treatment plants, drinking water tanks, tunnels and facade joints.
External concrete beams and columns on the centre were repaired using Sika Monotop, a cementitious two-component system which comprises polymer modified mortars. The system contains silica fume, a highly reactive pozzolan, which is applied "wet-on-wet" to ensure no degradation of the concrete or the structural steel beneath. The system has a good resistance to water and chloride penetration, helping to prevent future damage to the buildings concrete structure.

Sika Carbodur S Type strengthening plates were used to strengthen the pool walkways from the underside and then sealed with SikaTop Seal 107, a waterproofing and damproofing coating.  Sika Carbodur S Type is a proven system of external strengthening which uses epoxy-bonded Carbon Fiber Reinforced Plastic (CFRP) laminate strips. Stronger than steel, yet lightweight and non-corrosive, this system can solve unique strengthening problems in a variety of concrete structures.
The application of corrosion inhibiter Sika FerroGard 903 was essential following all concrete repairs to prevent the development of incipient anodes and also to slow down reinforcement damage.  As a surface applied system, Sika FerroGard 903, penetrates the concrete to provide a protective layer around steel reinforcement.  For its many desirable qualities, Sika FerroGard 903 is often chosen for use on heritage projects and aesthetically valuable structures.
Following extensive testing, Sika's entire range of concrete repair products is
certified to BS EN 1504, the European standard for concrete repair. This accreditation applies not only to the production quality of the products themselves but also to the guidance issued with them. The accreditation ensures users of the high quality nature of Sika's concrete repair systems.
Designed by Alexander Buchanan Campbell, the Dollan Aqua Centre reopened in May 2011.  With the concrete repair system complete, Sika has played a vital role in securing the long term future of this Grade A listed swimming pool and stands as an example of why Sika products are regularly specified to provide the long term protection of buildings.
Sika offers a comprehensive range of flooring and coating products, designed for a variety of different applications and building or structure types. These solutions are backed up by a highly experienced technical team, who offer expert specification advice and support.
Got a story? Email news@theconstructionindex.co.uk