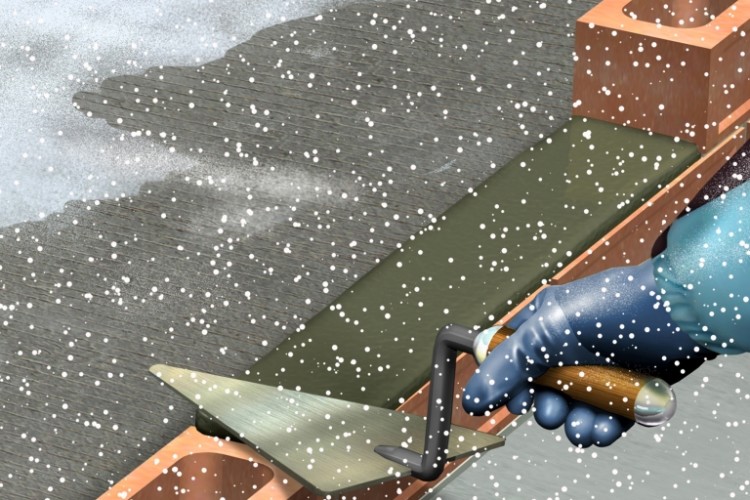 The products, which are not affected by poor weather, will work throughout the winter – even when you may not want to!
Key to the Winter product range is Sika Wintermix, a chloride free admixture that is suitable for use with steel reinforcement, due to its non-corrosive nature. It allows mortars and concrete to be used even at sub-zero temperatures. Delivering faster hardening of concrete, coupled with high early strength, Sika Wintermix improves the workability and cohesion of mortar at very low temperatures.
Sika Max Mix Frostproofer works in a similar way but is available as a concentrate, removing the need to carry bulky containers whilst allowing the user to dilute the amount required at the time of application. Protecting down to -2°C, Sika Max Mix Frostproofer is perfect for use in cold weather.
Supporting the Winter product range are Sika's fast curing products, which include Sika Max Mix Accelerator and Sika Accelerator rapid hardening admixtures for use with mortars, screeds and renders. Similarly, Sika Anchorfix-1 is a fast curing adhesive that is perfect for use when the cold makes the use of a drill difficult.
SikaSet 45 is also part of the Winter product range and helps to quickly repair potholes, which can be a significant problem during harsh weather, as noted over the past two Winter's in the UK. Equally, to ensure the quick setting and hardening of mortars, Sika Rapid Repair Mortar, Sika-3 and Sika-4 are available to help make light work of difficult jobs.
Of course, with the Winter season comes the added problems associated with damp and moisture – Sika Minipack Waterproofer and Sika Damp-Proofing Slurry can deliver a thin, high quality, waterproof slurry coating that prevents dampness and water penetration across a whole host of applications, such as basements and foundations.
Those looking to protect against the effects of damp and consequential rot should consider Sika's extensive range of wood treatments and preservatives. To highlight this need, Sika is currently running a 'buy one box – get one free' promotion on its SikaGard concentrated wood preserver range to ensure the necessary precautions are taken.
Jayne Hasoon, Product Manager for Sika, commented: "The Winter product range comprises everything needed to carry out work during harsh, cold weather without compromising on product workability or performance once applied. With Sika Wintermix and Sika Max Mix Frostproofer heading up the range, tradesmen can rely on Sika's expertise all year round."
Got a story? Email news@theconstructionindex.co.uk