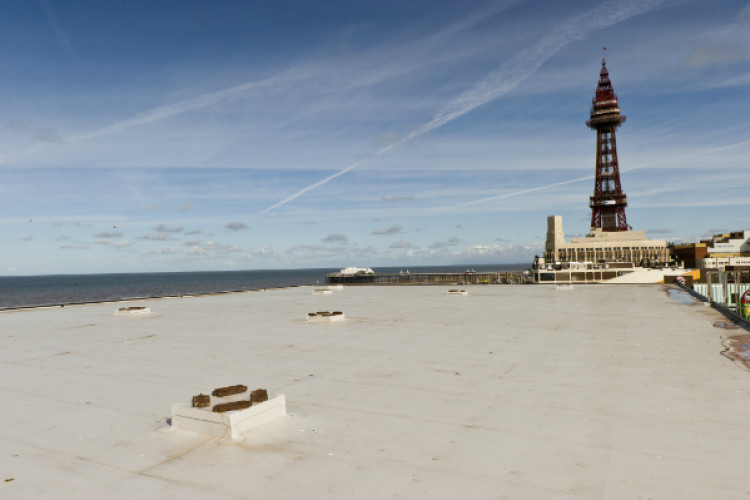 Subjected to extreme and varying climatic conditions throughout the year, from the hot summer sun to harsh winter storms, the ability to withstand the harsh weather was a prerequisite. Sika-Trocal's Type S single ply membrane was the natural choice.
For the application of the new roof, building owners Blackpool Council working alongside operators Merlin Entertainment, turned to specialist roofing contractor MAC Roofing and Contracting who recommended Sika-Trocal's Type S single ply membrane. With its flexible properties Sika-Trocal is able to cope with thermal movement experienced in the changeable British weather, making it ideal for the coastal building.
Over 2,000m2 of single ply membrane was applied to the existing steel decking of the building. Using Sika-Trocal's innovative fastening system, MAC Roofing and Contracting mechanically applied a series of fasteners, penetrating through the new insulation, directly into the structure. Once the fixings were installed, the roofing membrane was unrolled over the substrate and bonded without the need for use of flames or hot works – with each membrane roll carefully overlapped to provide a watertight roof.
The installation system provides an effective method of mechanically fixing the membrane at the same time as the insulation whilst also delivering an outstanding method of restraint against wind uplift forces – essential for costal located buildings. This single fix approach also reduces the number of fixings required, speeding up the installation process and reducing costs.

Sika-Trocal Type S membrane, which is approved by the British Board of Agrément (BBA) to have a life expectancy 'in excess of 30 years', is highly resistant to ageing and industrial pollutants and requires no further surface treatments or coverings throughout its service life.
Sea Life Blackpool is one of 34 sea life attractions owned by Merlin Entertainments, who took over the operation of a number of Blackpool's main attractions in November 2010. With the acquisition they pledged to help regenerate the popular resort with several multi-million pound investments. As well the Sea Life Blackpool refurbishment, the company is to complete extensive renovations to Blackpool Tower and Madame Tussauds, as Merlin attempts to work its magic at Britain's most famous beach resort.
Offering exceptional weatherproofing, durability and a simple installation process, Sika-Trocal has ensured that Sea Life Blackpool is protected and ready to deal with the unpredictable British weather.
Got a story? Email news@theconstructionindex.co.uk