Skyjack has introduced not just one but two anti-entrapment devices, now officially called secondary guarding devices, that prevent the operator becoming trapped against overhead obstacles such as a ceiling or steelwork.
Skyjack says that is is the first manufacturer to release two distinct options in secondary guarding. Customers can now select from the SG-M or SG-E secondary guarding mechanisms, according to what their job-specific risk assessment tells them is the most appropriate solution for their need.
"We understand that there is no 'one size fits all' solution when it comes to such precautions," said Skyjack product manager David Hall. "Our telescopic and articulating booms are designed with a range of safety features, in accordance with regulatory requirements. However, we recognize that this new measure, although not mandatory, has a role to play. The UK government's Health & Safety Executive (HSE) has welcomed secondary guarding but has also noted that no one system is appropriate for all job functions. We agree, and by offering a choice of options it broadens the appeal of secondary guarding to a wider range of customers, who may consider it a worthwhile investment."
Skyjack said that it needed to work with a major users in developing the systems to ensure they met customer needs. It said that having Select as a partner also gave it a platform for extensive field testing. This ensured the customer remained the focal point throughout the testing process, it said.
"Select Plant's powered access division was keen to work through a solution for secondary guarding systems with Skyjack to bring the company's articulating boom range into our own fleet," said Select Plant Hire specialist product manager Tom Barrow. "Select has always been at the forefront of product safety solutions and this is the driver that helped us push through in partnership a solution to secondary guarding on Skyjack products."
The Skyjack SG-M system [pictured below] is a steel frame that protects the operator from being pinned against the controls.
The Skyjack SG-E system [pictured below] has a sensor bar that, when pushed, instantly stops all functions and sounds a siren and flashes a beacon. If the bar is released within one second, the siren and beacon stop, and the selected function will return. If pressure is applied for more than a second, the siren and beacon continue and the engine stops, halting all functions until reset. The applicable emergency controls can still be operated to bring the platform down to ground safely. If the system is accidentally activated by the operator, it can be reset using an illuminated push-button on the control box.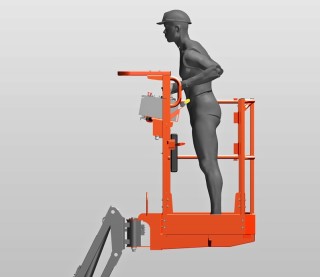 Both the SG-E and SG-M can be fitted on new Skyjack booms or retrofitted to models manufactured in 2006 and after. They can be factory fitted or supplied as a kit.
Got a story? Email news@theconstructionindex.co.uk