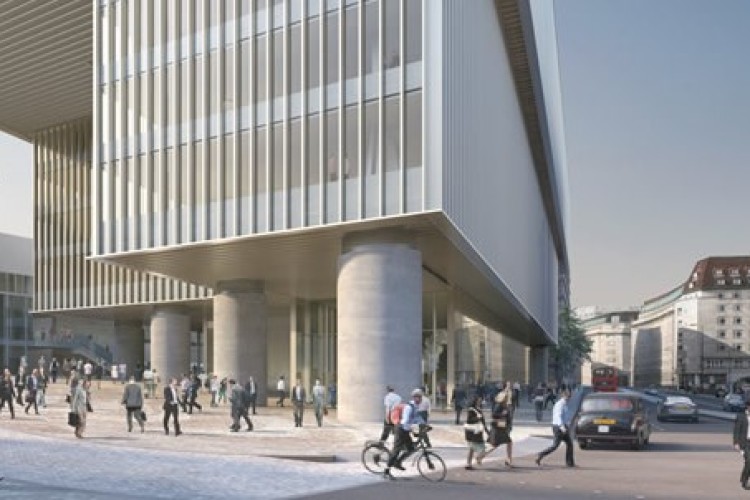 HB Reavis has bought the office-led Elizabeth House redevelopment on York Road, next to Waterloo Station, from London & Regional and Chelsfield. It becomes the fourth project in the Slovakian developer's London portfolio.
An 88,000 sqm development has been granted planning permission on the site of Elizabeth House, a 1960s former British Rail office building that has been earmarked for redevelopment for more than 10 years. Lambeth Copuncil has given planning permission for two new buildings and public realm works.
The current buildings include a 16-storey tower that butts hard against the Victory Arch entrance to Waterloo station, effectively blocking off the possibility of improving access to the station itself, and between the station and the South Bank.
The proposed new development comprises a 29-storey building to the north (118 metres in height) providing offices and residential units and a 10-storey building to the south providing office and retail space. The scheme delivers 70,000 sqm of commercial floorspace, 142 homes and public space totalling 18,000 sqm.

Tomas Jurdak, chief executive of HB Reavis UK, said: "We're excited to add Elizabeth House to our portfolio. The development provides a unique opportunity for us to deliver a building that will transform the area through our considered approach to development and placemaking. The deal aligns with our strategy of acquiring well-located sites in London with significant potential to deliver innovative, contemporary office schemes that employ the latest technology, are heavily focused on the needs of their occupiers and improve life for those who use our buildings as well as the surrounding community."
Pavel Trenka, chief executive of HB Reavis Group, said: "In recent months we have been asked about our perspective and commitment to the London market. This deal – our largest yet in the UK – affirms our long-term commitment and aligns with our plan to position one third of our business operations in London by 2019. The development joins a list of major schemes of similar size and urban scale across our other markets including Varso Place in Warsaw, Agora in Budapest and NIVY/Twin City in Bratislava. Both Elizabeth House and Varso Place are unique due to their extraordinary vicinity to major transportation hubs and their scale and prominence provide an endless range of user experiences. These are the development opportunities we live for."
The acquisition of Elizabeth House follows HB Reavis' recent launch of its flagship project Varso Place in Warsaw, a 140,000 sqm mixed-use scheme featuring a 310-metre high tower, designed by Foster & Partners, which is set to be Central Europe's tallest building once completed in 2020.
HB Reavis currently has three London schemes under construction:
33 Central – a 21,000 sqm new build office on King William Street in the City.
Cooper & Southwark – a 7,000 sqm office building at 61 Southwark Street due to complete later in 2017.
20 Farringdon Street – a 7500 sqm office building due to complete in 2018.
Got a story? Email news@theconstructionindex.co.uk