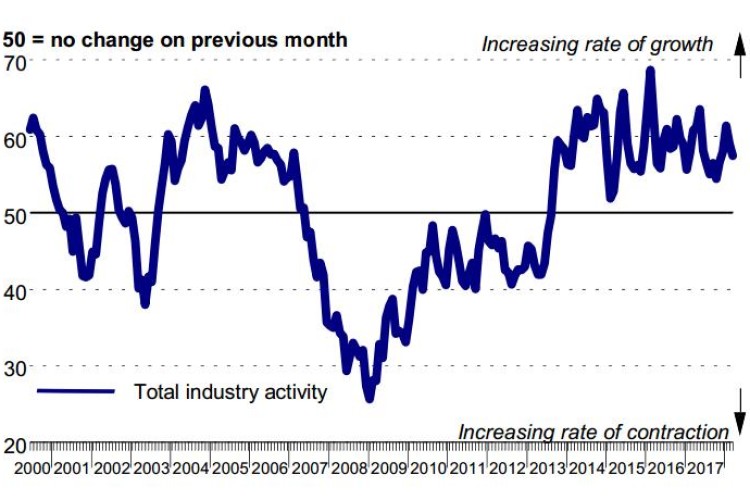 The heavy snowfall at the start of the month contributed to slower expansions in activity, new orders and purchasing activity, but growth rates remained marked nonetheless. The rate of job creation picked up and business sentiment remained elevated. Snow disruption also caused problems with supplier deliveries, with lead times lengthening to the greatest extent since December 2005.
The Ulster Bank Construction Purchasing Managers' Index (PMI) – a seasonally adjusted index designed to track changes in total construction activity – dropped to 57.5 in March from 59.2 in February. This signalled a weaker rise in construction activity during the month – figures above 50 indicate growth; the higher the value, the higher the rate of growth.
Simon Barry, chief economist Republic of Ireland at Ulster Bank, said: "In fact, we would not have been surprised to have seen a larger weather impact, particularly given the sizeable impact on factory output reported in the March Manufacturing PMI survey.  So we take the March survey results as further evidence of a construction sector which continues to register very strong underlying growth performance.
"It was also encouraging that the sector's growth was again broad-based. Led by particularly strong growth in housing activity, all three sub-sectors recorded expansion for the fourth month in a row."
Strong rises were seen in activity on both housing and commercial projects, although in each case the rate of growth eased. The only sub-sector to see a sharper increase in activity was civil engineering, but it still posted the weakest rise overall.

Barry added: "Furthermore, confidence levels among Irish construction firms clearly remain very buoyant as sentiment was little changed from February at levels that are amongst the highest on record. Over 63% of firms expect activity to increase in the coming twelve months, underpinned by confidence about the prospects for both the wider Irish economy and the construction sector itself."
In tandem with the picture for total activity, new orders increased at a sharp, but reduced pace during March. Panellists were reportedly able to secure new tenders amid strong market conditions.
Although poor weather conditions impacted on activity in March, strong longer - term prospects led companies to raise staffing levels substantially again. Moreover, the rate of job creation quickened to a seven-month high.
Although the rate of input cost inflation eased to a four - month low, it remained sharp and faster than the series average. Panellists reported higher costs for raw materials, including steel.
Got a story? Email news@theconstructionindex.co.uk