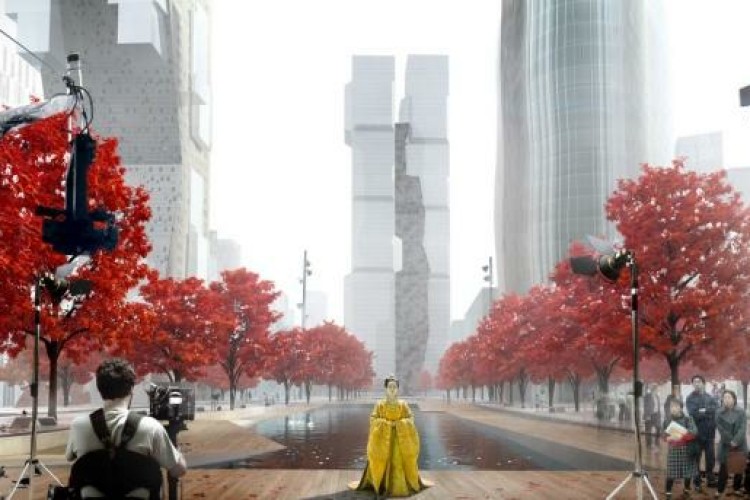 The aim of the project for MCC Real Estate is to bring modern urban living, commerce and tourism to a long-forgotten 2km central waterfront area between the river levee and the old city wall of the Chinese city.
The SOM plan is designed to begin the ambitious redevelopment with a compact and first phase development strategy that will revitalize the Dama Road and Tianbaoli area and establish a new framework of streets, development blocks, tree-lined streets and public plazas. It will reconnect the city to the rive. The Dama Road district is intended to be the hub of New Nanjing's nightlife, and renovated colonial-era buildings will house galleries and shops.
The chairman of MCC Real Estate, a subsidiary of state-owned Metallurgical Corporation of China, Hou Baoxu said: "The competition presented many good ideas from all the firms. In addition to their exciting concepts, we chose SOM because of its history of getting large and complex projects like Nanjing Xiaguan built."
SOM global city design partner Philip Enquist said: "We are delighted to be working with MCC Real Estate and the city officials of Nanjing to help move this great historic city to the forefront as an important business, tourism and quality-of- life leader in the New China. We are flattered that they have accepted our concepts for a dramatic new signature riverfront."

 SOM director Douglas Voigt said: "The core concept of the SOM plan for Nanjing Xiaguan is making connections. Connecting the city to the river. Connecting the best of urban living to nature. Connecting under–utilised land to value creation that will increase growth, tourism and prosperity. Connecting Nanjing's rich heritage with China's rising economy. "
Xiaguan Riverfront will be a collection of new neighborhoods. The SOM plan advocates a mix of uses at a variety of scales including an overall development strategy for the site, commercial hubs within each neighborhood, and a mix of uses within individual blocks and buildings. Eventually an enclosed walking street will weave through many of the neighborhoods.
The plan includes a series of inter-connected canals and public open spaces. 
Got a story? Email news@theconstructionindex.co.uk