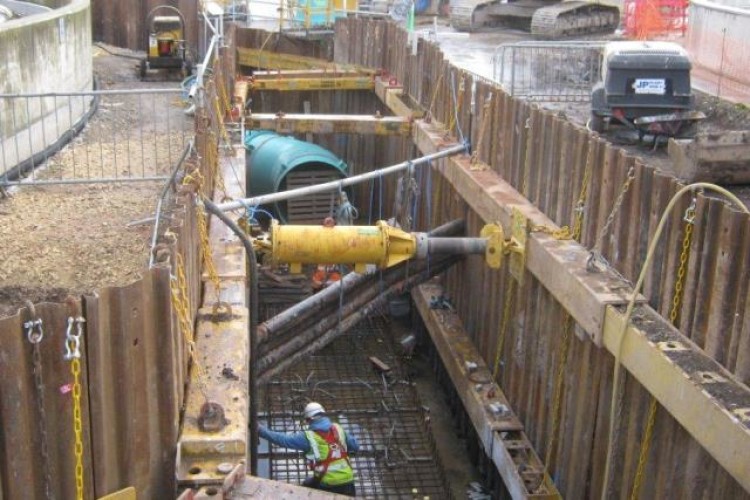 Main contractor Black & Veatch is laying a 1.6m-diameter steel pipe at the Naburn sewage works to carry sludge across the site to the final settlement tanks where it is prepared for de-watering and disposal.
The route of the 100m-long pipeline crosses several existing services that the new pipe must run beneath. This has meant digging down as deep as 7m to get enough clearance.
Equipment supplied by Groundforce includes MP80, Mega Brace, Maxi Brace and double-acting Mechshore braces
"The pipeline passes through the location of old sludge lagoons and the ground condition here is very poor," explained Black & Veatch section engineer Richard Kent.
"Approximately half of the trench had to be supported with steel sheet piles which needed to be heavily braced," he added.
The shallower stretches of the 3.2m-wide trench were lined with standard trench sheets and supported with double-acting Mechshore braces but where the pipe dived down to clear an existing FST feed pipe crossing the new excavation, heavier equipment was required.
"The deeper section was lined with interlocking sheet piles and three levels of frame were installed to support the sides," said Groundforce technical services engineer Oliver Smith.

This was done in a pre-specified installation sequence. First the sheets were driven to full depth and the ground excavated to 11.6 m AOD where the first Mega Brace frame was installed. B&V then excavated to 9.25 m AOD, exposing the existing FST feed pipe, at which point the second frame was installed.
The third frame was installed at 7.25m AOD before the trench was excavated to its maximum depth of 5.5m AOD (7m below ground level), at which point a 50mm blinding slab and 400mm thick concrete pile cap were cast.  Once this had reached sufficient strength, the frames at levels 2 and 3 were removed to allow space to install the pipeline.
Such were the lateral forces imposed by the poor ground that Groundforce had to supply 80-tonne capacity MP80 mechanical struts to brace the frames.
"The ground was so unstable that we had to isolate the hydraulic rams and weld the frames to ensure there was no movement," said Mr Smith.
Work on the contract began in September 2012 and Black & Veatch is now busy installing the new pipe. Completion is expected this month.
Got a story? Email news@theconstructionindex.co.uk