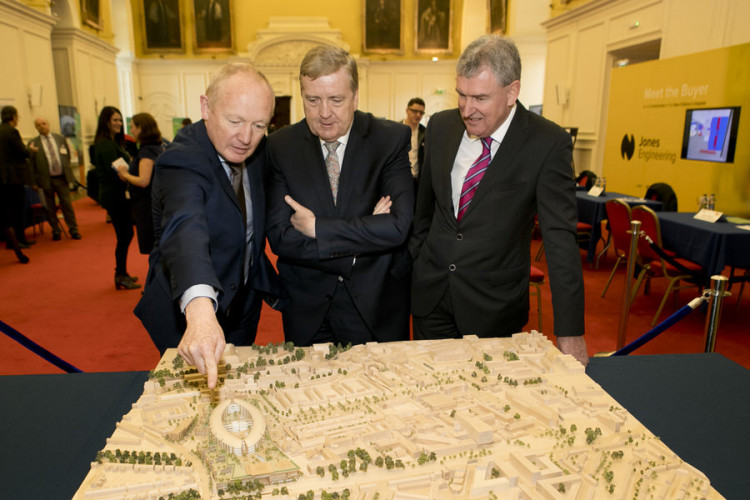 Minister Pat Breen welcomed a total of 350 representatives from the 200 construction, engineering, mechanical and electrical companies to the event, which offered the opportunity to pitch for business to the contractors - BAM Building, Jones Engineering Group and Mercury Engineering Ireland.
Face-to-face meetings between the buyers and potential suppliers were held in a 'speed dating' format, with each supplier having five minutes to make their pitch to their chosen buyers on a first come, first served basis.
The 12-acre site for the new Phoenix Children's Hospital Ireland has been fully cleared and is now ready for the laying of foundations. There will be 380 individual in-patient rooms, each with its own en-suite and a bed for parents to sleep near their sick child. The hospital will be surrounded by four acres of outdoor gardens and external space.

Breen said: "'Meet the buyer' for the construction of the new children's hospital is a stepping stone for many Irish suppliers and businesses to securing important contracts which offer the chance to companies to gain experience and develop capability on large scale construction projects."
Enterprise Ireland CEO Julie Sinnamon said that such events ultimately benefit all parties involved while also offering Irish suppliers the chance to gain experience in the delivery of world class building infrastructure. "For businesses with global ambition, this capability and experience proves invaluable when companies go on to compete for projects overseas," she said.
John Pollock, project director of the National Paediatric Hospital Development Board, said: "We are delighted to work with Enterprise Ireland, BAM, Mercury & Jones Engineering on this 'Meet the Buyer' event. The construction of the Phoenix Children's Hospital Ireland is one of the most significant in the history of healthcare in Ireland. This is a beautifully designed hospital and our core objective is to build and equip a modern, state of the art hospital that delivers value for the people of Ireland but which importantly is designed, built and equipped in a manner which will enable clinicians and health managers to do their jobs in optimal conditions and for the comfort of families and children attending the hospital."
Got a story? Email news@theconstructionindex.co.uk