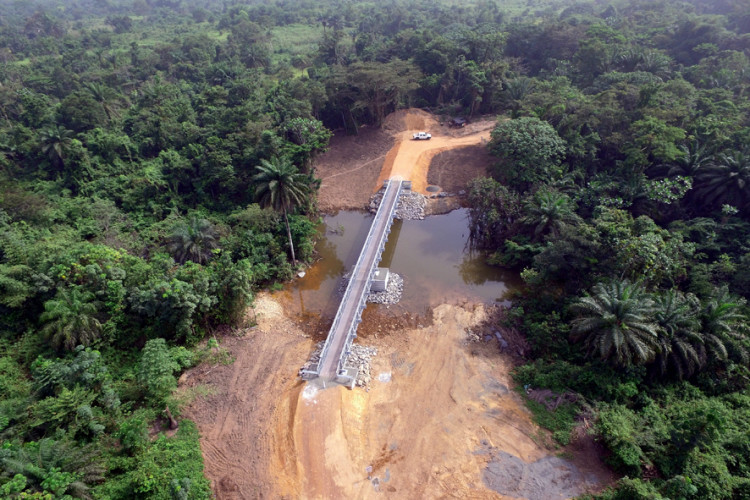 Mabey is famous for its modular steel bridges. Easy to transport and erect, they have been deployed all over the world, often as temporary replacements while permanent crossings are built and often not as temporary structures at all but permanent installations.
The big advantage of a Mabey bridge is the rapid deployment and ease of erection resulting from its modular design. But as anybody who knows anything about bridges will tell you, the success or failure of every span rests, literally, on the quality and robustness of the abutments.
Mabey's all-steel bridges need solid abutments to support them at each end and these are most often provided in-situ by the contractor. Concrete (precast or in-situ) or rock-filled gabions are the most common solutions, and of course this requires a degree of on-site construction work before the bridge is even delivered.
Now, however, Mabey is offering an all-steel modular bridge solution that comes complete with prefabricated steel abutments – thanks to a joint venture with Canadian manufacturer Atlantic Industries (AIL).
Rather like Mabey itself, AIL produces steel structural components such as pipes, culverts, barriers and, indeed, temporary bridges, for infrastructure projects worldwide. One of its most successful products is the Bolt-A-Bin, a galvanised steel modular system for building retaining walls.
The two companies have worked together on numerous international projects for many years, but now that relationship has become closer by combining two projects – AIL's Bolt-A-Bin and Mabey's Compact 200 modular bridge – to offer (for the first time, it is claimed) the world's first 100% steel modular bridge system.
Bolt-A-Bin is made up of a strong cellular corrugated steel container into which a mass of soil can be compacted. This removes the need for concrete pouring, saving both money on materials and the cost of installation, while minimising the impact of on-site works on the environment.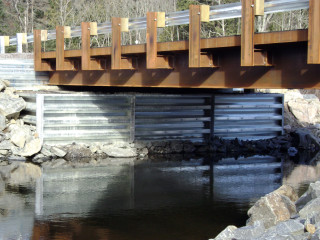 The all-steel abutments can be configured in several dimensions and heights to incorporate changes in elevation which vary across different project applications. The design of the corrugated steel container, combined with the strength of the enclosed mass of earth, enables it to withstand ground movements without cracking or bulging, while ensuring the weight of a bridge and its load can be carried safely.
Combining this system with the Compact 200 bridge offers an all-steel alternative to the usual 'hybrid' solution of steel bridge and concrete abutments. The result is faster, safer and more efficient installation, says Mabey. And besides ease of transport and assembly, the design removes the need to mix concrete on site or nearby – a major consideration particularly when building the bridge in a remote location.
The first installation of the all-steel bridge was indeed in a remote location, the Mount Coffee Hydropower plant deep in the forests of Liberia, West Africa.
UK-based contractor Dawnus International was contracted by the Liberian government to rebuild the hydropower plant which had been destroyed in the 1990s during the civil war.
One of the challenges Dawnus encountered was that while the hydropower plant was out of use, remote communities in the surrounding areas had established access routes where the reservoir had previously been. This meant that, once the reservoir was operational again, these access routes would become inaccessible and communities would become cut-off once again.
The solution for at least one of these routes was to build a pedestrian bridge over a narrow part of the reservoir.

Time was critical, because work to restore the reservoir could not begin until the safe access had been provided for the local community. The all-steel bridge system from Mabey and AIL proved to be the ideal solution since it was easy to transport, easy for the unskilled local workforce to install and the Bolt-A-Bin abutments could be filled with layers of compacted local soil instead of shipping in large volumes of concrete.
"AIL has been using the Bolt-A-Bin for bridge abutments for many years," explains Mabey's business development director Tom Rasmussen, "but actually, modular bridge abutment products are pretty rare and most modular bridge systems are installed on gabion basket abutments or modular concrete structures".
Rasmussen says that the combination of the Compact 200 bridge with the Bolt-A-Bin is a logical step. They are compatible systems that work well together without any significant modifications and offer a low-impact, reusable system that is completely recyclable.
"It's a very flexible design," Rasmussen declares. "The Compact 200 bridge has a maximum clear span of 100m and the Bolt-A-Bin abutments can be built to any required dimensions. You can put enormous loads through the abutments – just add more modules – depending of course on the geotechnics."
Mabey and AIL are working in partnership to introduce their all-steel modular solution globally, developing opportunities for use in Europe, Africa, South East Asia and Australasia, says Rasmussen.
Mabey unveiled the 100% steel modular bridge at last month's Bridges 2018 conference at the Ricoh Arena in Coventry. "Bridges are always a critical piece of infrastructure and at the conference people were really excited by the potential of the system, particularly with a view to offering a solution on HS2," he says.
"Bolt-A-Bin is perfect for a project like this because of its environmental profile and speed of installation," adds Rasmussen.
Mabey has yet to deliver and install its first 100% steel modular bridge in the UK, though it apparently came close very recently. "We had a Scottish customer who expressed a preference for the Bolt-A-Bin abutments but in the end went with a traditional concrete design," says Rasmussen.
One potential problem with the all-steel solution might be its durability in highly-saline marine environments where corrosion is a risk. However, Rasmussen believes this would only ever be an issue where the bridge was intended to be a permanent installation.
In practice, the 100% steel solution will probably be used most frequently as a temporary solution where access is an issue. In Liberia, local workers installed the 52m-long Compact 200 bridge in just four days. The Bolt-A-Bin abutments were built first, bolted together and filled with layers of compacted soil.
The bridge was then simply launched on rollers and jacked down into place.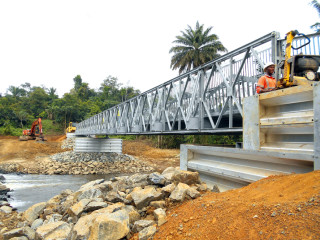 This article was first published in the April 2018 issue of The Construction Index magazine, which you can read for free at http://epublishing.theconstructionindex.co.uk/magazine/april2018/
UK readers can have their own copy of the magazine, in real paper, posted through their letterbox each month by taking out an annual subscription for just £50 a year. See www.theconstructionindex.co.uk/magazine for details.
Got a story? Email news@theconstructionindex.co.uk