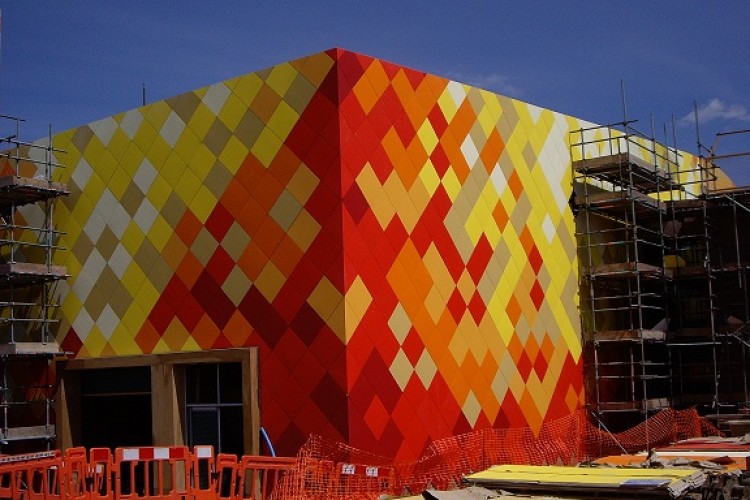 The Colour panels, in colours ranging from dark rich red through to a light yellow, were cut to size in Steni's factory to save time on site, then installed in a stunning harlequin pattern to emphasise the main body of the new Creative Media Centre at the MCE Academy, a specialist Performing Arts College in York.
One of only 17 in the country to receive grant aid from the Department for Education, the £3million BREEAM "Very good" centre was built by main contractor Hobson & Porter over eight months, linked to the 900-place former Manor CE secondary school that was built on an unused agricultural field just two years earlier.
Architects Morgan Lloyd Jones were unaware of Steni's cut-to-size capability when they involved the manufacturer in a review of rainscreen cladding materials for the project. It was the sheer size of Steni's colour range - 44 standard colours and three gloss levels - that originally impressed them.
Steni's cut-to-size capability means that panel sizes from 850mm to 3,500mm can be cut automatically to length at no extra cost and in section widths at a nominal charge – a facility which is believed to be unique to Steni. All contractors need to do then is attach the panels to the fixing system, either by screws or structural adhesive.
At MCE Academy, some 700m² of 595mm x 595mm squares of Steni Colour panels, which are manufactured from fibreglass reinforced polymer composite with a smooth surface of 100% acrylic that is electron beam cured without the use of solvents, were screw fixed by specialist sub-contractor Farracrest.
Will Jones, of Morgan Lloyd Jones, said: "Steni's ability to cut the panels in the factory is an ideal scenario for a multitude of reasons and was certainly one of the contributory reasons why we specified Steni.
"Not only does it minimise waste and time on site, which is something all contractors are trying to achieve, but from our point of view, this cutting facility provides quality reassurance knowing it has been accurately manufactured in the factory under controlled conditions."

He added: "It would have been impossible, given the number of different colours we are using at the creative media centre, MCE, for the panels to have been cut anywhere but the factory due to the sheer scale of the operation and the accuracy required to achieve our design requirements."
Morgan Lloyd Jones' brief was to provide an exemplar arts and media centre on the 6.5 hectare site – a range of suitable spaces providing diploma courses in the performing arts and industry-standard creative and media facilities for 14 to 19-year-old students, community arts groups and other schools.
The main component of the 1,650m² building is a 200-seat auditorium designed for drama, dance and music. Two rehearsal/dance studios are adjacent to this space, with support spaces. There are also creative media spaces, an Apple computer training centre, conference room, and public spaces such as a gallery and seating areas.
The lightweight, 7mm-thick Steni panels clad the central part of the building - the auditorium and public spaces, better known as The Hive.
Will Jones said: "The planning department was very enthusiastic about the approach to the design. It was viewed as a landmark building in York due to its location close by the ring road. The visual appearance was an important consideration for both the image of the city and also that of the end user.
"They project the symbol of The Hive, an image full of vitality, busy movement, colour and artistry, mirroring the users of the building. They sell the building and its function, acting as a metaphor for the host of activities taking place in and around. Externally, they can be used as a backdrop for performances and as enclosures for social and recreational activities."
He added: "The visual impact of the Steni panels is balanced by more neutral finishes to adjacent areas of the building. The rendered panels to adjacent building blocks are secondary to the central area but reflect the Steni-clad area via the colour hues used."
Got a story? Email news@theconstructionindex.co.uk