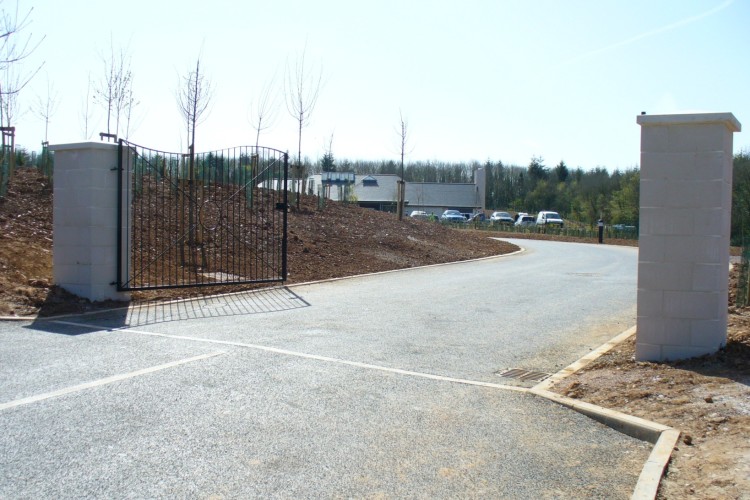 The company has created the £1.7 million East Devon Crematorium in London Road, Strete Ralegh, on behalf of East Devon Crematorium Ltd. The 426m² building, which houses a single chapel, has been built on a 10-acre site and will serve a large area of East Devon and West Dorset, stretching from Exmouth to Bridport.
Constructed using locally-sourced building materials wherever possible, the new crematorium features sophisticated environmental engineering including mercury gas abatement technology, which sees mercury produced during the cremation process captured and mixed with reagent granules, preventing it from being released into the atmosphere. This cutting-edge technical solution will help the facility to meet new EU emission guidelines which are set to come into force in 2013.
The company has also carried out extensive landscaping and highway alterations, and created memorial gardens as part of the project. In addition, Stepnell has constructed a pond, complete with a hydro-brake: a flow regulation device which controls water run-off.


"The new East Devon Crematorium incorporates some of the most advanced technology currently available to ensure that the building will be compliant with EU legislation on emissions when the new regulations become mandatory in two years' time," says Mark Wakeford, Stepnell managing director. "We are the experts in new-build crematoria in this country; of the 12 new crematoria built in England in the past decade, Stepnell has built eight of those, so our experience in the sector is second to none.
"We've used all of the skills and knowledge we've gained on those projects to create this modern, high-quality new facility and we're very pleased to have handed it over early."
Chris Johns, managing director of East Devon Crematorium Ltd, says: "We are very pleased indeed with the overall finish and presentation of this building which sets a standard by which others must now be judged."
Got a story? Email news@theconstructionindex.co.uk