Quarrying may seem an easy business – just dig stone out of the ground and truck it to the builder that needs it. But of course there is more to it than that, and the more processing the quarry carries out, the more money can be made.
Recent research by Capital Economics calculated that the wider mineral products sector is a £9bn a year industry, making a gross value added (GVA) contribution to the UK economy of more than £4bn a year. Big business then.
For this reason there is a wide array of crushing, screening and processing equipment available, a disproportionate amount of which seem to originate in Northern Ireland.
Two of the big names in this sector are Powerscreen and Finlay, both from Northern Ireland, and both part of the Terex Empire since 1999.
Powerscreen makes jaw crushers, cone crushers and impact crushers, as well as screening equipment for sorting materials into different sizes. It has the Chieftain range for screening aggregates and sand and the Warrior range for screening materials in more demanding applications including recycling, construction & demolition, aggregates and topsoil.
One of the newer bits of kit is the Warrior 1400X (pictured below), launched last year and one of four Warrior machines. It is a flexible screening machine, aimed at small to medium sized operators who require a high performing, heavy-duty, versatile machine that remains easy to transport. User benefits include jack-up screen facilities to aid media access and hydraulic screen angle adjustment.
Powerscreen has also made improvements lately to some of its crushers. On the X400S jaw crusher (which can crush 400 tonnes per hour) the discharge opening from the under chute has been increased from 200mm to 320mm, allowing faster movement of pre-screened material to bypass the crushing chamber.
And to the XH320X have been added a hydraulically folding extended side conveyor and a full length product conveyor, with stockpile heights of 3.7m and 4m respectively.
New under the Terex Finlay brand is the J-1170 high-performance primary mobile jaw crusher. The 1100mm x 700mm jaw chamber is available with optional hydraulic release,which is handy for crushing demolition debris. The hydraulic release option has an automatic overload protection system to prevent damage by uncrushable items in the feed material. Hydrostatic transmission of the jaw chamber allows reversible operation if there is a blockage. It also provides variable chamber speed to suit given applications.
The machine has a heavy-duty, variable speed, vibrating grizzly feeder (VGF) with integrated pre-screen for separating fines material. Material from the pre-screen can be diverted to a stock pile via the on board by-pass conveyor, or join the crushed product on the main belt. The 9.6m3 hopper has hydraulically folding sides and a hydraulic self-locking mechanism to speed set-up and tear-down times. Overall transport weight is 45 tonnes.
Terex Finlay has also just brought its I-100 to market, a direct drive 860mm x 860mm diameter horizontal impact crusher with variable speed. Its electronic control system monitors and controls the speed of the rotor and regulates the VGF with integrated pre-screen to bypass dirty fines and maintain a consistent feed of material into the impact chamber.
Terex says that the heavy-duty crawler tracks, and optional radio remote control unit, make on-site mobility easy and it can be set up in just five minutes.
Among the ranks of users of Terex Finlay equipment is Banner Contracts, a family-run contract crushing and screening company based in Darlington. It was established by Mike Banner in 1992 and is now run by his two sons Joe and Andrew. It has eight Terex Finlay machines, with the most recent addition, a new C1540 cone crusher, joining this spring.

The C1450 can process up to 150 tonnes an hour. The built-in single deck pre-screen allows Banner Contracts to process material, removing the fines before it reaches the cone. No time is wasted putting under-sized material through the machines.
Joe Banner says that the cone crusher's adaptability means the company can use it on different jobs "as and when we require".
It is currently working on Banner Contracts' limestone operations, crushing 200mm stone down to just 50mm. Most of this material is then sent to the onsite kiln.
A newer name in the crushing and screening equipment market is Anaconda Equipment, based in County Tyrone. It was set up in 2005 by Alistair Forsyth and Martin Quinn as Quality Fabrications Ltd before changing its name to Anaconda in 2009. Anaconda's range of equipment includes conventional screening units, scalpers, trommel screens and mobile conveyors. The SR514 triple-deck screen is the latest screen to be added to the range and will offer four- way separation of material.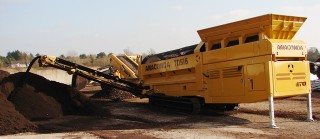 The company reports sales growth of 65% in 2011, followed by nearly 40% in 2012. While growth has been largely based on export sales, it has this year signed up a second UK dealer, the newly formed Anaconda UK, set up in Cheltenham by Danny Morgan who has spent more than 20 years in the industry selling crushers and screens. Anaconda UK will cover Wales and the west of England, leaving Cleveland-based LH Quarry Group to continue to serve Scotland and the east of England.
Another Northern Ireland name in this sector is CDE, which produces washing systems for aggregates rather than screening.
North Wales stone merchant DP Williams invested in a CDE mobile washing plant in 2011 to remove clay and produce washed aggregates and sands. The success of this gave DP Williams the opportunity to expand production further by acquiring a new site. From the outset, the new feed stock here contained lignite, which would impair the quality of concrete sand. To make the material good enough for visible surface slab work, it needed a process that would remove lignite contamination. CDE was commissioned last summer to design and install a customised 50 tonnes per hour counter flow classification unit (CFCU), the first of its kind to be integrated alongside an M2500 mobile washing plant.
Incorporation of a 3m sieve bend within the system has not only allowed them to separate the lignite from the sand and water, it has also accommodated the recovery of any fine sand particles that may have been lost during the lignite removal process.
CDE has also installed an automatic poly dosing regulator, for waste-water control. This has allowed DP Williams to maintain water clarity by automating the polymer dose rate. This has not only reduced operation costs by reducing polymer consumption, but it has also reduced the level of operator intervention.
CDE's experience of lignite removal processes stems from research focused on Lough Neagh, the largest freshwater lake in the UK and situated close to CDE's headquarters. Lough Neagh has the largest lignite seam in Western Europe.
There is no doubting that times are as tough in the quarrying sector as they are in contracting. Breedon Aggregates chairman and industry veteran Peter Tom reported recently that trading conditions in the industry are the worst he has known in his 50 years in the business. However, those who are able to continue to reinvest in their business and in their plant seem likely to continue to reap rewards.
Got a story? Email news@theconstructionindex.co.uk